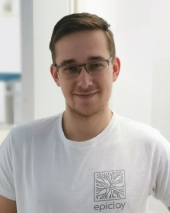 More info
The CEMS Global Alliance is a purpose led organization, powered by our beliefs that great leadership starts with self-leadership and societal progress requires continual exploration. In this series of interviews, we take a look at CEMS students and alumni that are contributing to make this world a more open, sustainable and inclusive world
Today, in our Humans of CEMS series, we are happy to introduce you to Christoph Hornik, founder and CEO of Epiclay - A startup providing living green walls for facades and winner of the CEMS Startup Challenge. In this interview, he explains why founding a company in parallel with your studies is a good idea and how the CEMS community helped him in that process.
1. How did you come up with the idea behind your startup? Did you specifically think around sustainability when ideating?
In fact, the idea around Epiclay came to life in an ERASMUS+ project called "BUILD Solutions", which was a cooperation between students who study business, architecture/design and biology. Because of this combination of disciplines, we were diving into sustainable solutions from the beginning. Also, I highly believe that we just can't afford to think of new solutions without accounting for environmental and social impact, so for us that meant not only to minimize negative effects, but to create a solution which maximizes its positive impact.
2. How were you influenced by the CEMS environment and community? How did winning the CEMS startup challenge affect you?
The strategic management skills and international mindset I gained through CEMS definitely helped in keeping the overview of Epiclay's overall strategic direction, as well as in understanding and leading a highly international team.
But also the "family cohesion" of the CEMS community was something that helped tremendously during the early days of Epiclay, where my fellow students were eager to help – may it be with interviews to validate our ideas, advice, or introductions to their network. Just recently our team even got extended by a fellow CEMSie, who I'm really looking forward to working with!
Also, winning the CEMS Startup Challenge helped us in many ways: on one hand, the helpful advice from Calm/Storm Ventures, on the other hand, again the open and helpful CEMS community, that immediately tried to connect us wherever they saw fit.
3. What are the key learning lessons you took away from starting your own business and managing a team based in three different countries?
One learning definitely was that project and time management is key, especially while you are still studying. CEMS and founding a company are both highly time-consuming responsibilities, thus it is even more important to really take out some free time four yourself. Blocking out some time in my calendar for that worked like magic for me. Besides that, my key learning for managing an international team was the importance of having one big and aligned vision, which allows every team member to work independently in their defined roles and task areas but still towards a common goal.
4. Do you have any recommendation for CEMSies who are thinking about setting up their own company?
First off, I would definitely recommend founding a company during CEMS. I founded Epiclay at the end of the first semester of my Master's, giving me some time to validate the idea before having to decide whether I want to focus on the start-up full time. Also, it helped me to put a lot of the things we learn at CEMS into a practical context and see how these apply to Epiclay, thus helping me in understanding the actual study materials better.
When founding a company during CEMS, I would really encourage founders to seek a diverse team – on one hand in terms of cultural backgrounds and gender, but also by combining different disciplines and professions, as this really speeds up the growth and development process.
The second advice that really helped us was building up an advisory board, which helped us to bring experience on board that tremendously increased the professionalism within our operations, as we suddenly moved from an early-stage student start-up to a company with professional processes in place.
Lastly, my biggest recommendation would be to talk to potential customers as soon as possible. Even though you should of course not reveal precisely how your technology will work to everyone, it's important to find the balance between worrying about someone stealing your idea and the ability to validate your idea. At Epiclay, we spoke to potential customers from day one onwards and constantly validated new ideas and changes. Next to learning more about your customer needs and therefore what your product should look like, it also helped us to get inquiries for pilot projects at a very early stage, bringing confidence and also showing traction to potential investors.