Over 16,500+ ambassadors of the CEMS Global Alliance, working together across the world to promote the CEMS mission: global citizenship, cultural diversity, professional responsibility & accountability and positive impact on society as a whole.
Alumni of the CEMS MIM represent 108 nationalities, speaking 60+ languages and working in over 75+ countries as corporate leaders and entrepreneurs in a range of industries like consulting, consumer goods, technology, finance, healthcare and much more.
CEMS Alumni Profile Statistics
97%
were employed or continuing their studies
48%
worked outside of their home country
82%
have worked abroad and on average for 5 years outside their home country in 2-3 different countries**
47%
have worked for a CEMS Corporate  Partner
98%
would recommend the CEMS experience to others
note: Statistics are based on the Student and Alumni Survey conducted in 2018.
**Statistics from the 2016 Universum Survey.
CEMS Alumni Platform 
Discover current CEMS Alumni events, connect digitally with ease to let others within the CEMS' network know when you are in town and exchange ideas globally with your fellow alumni.  Take this as an opportunity to check out what the new platform offers:
Networking (Find People, CEMS CPs, Forum)
Groups (Local Chapters & Global Groups)
Events (local, regional, annual, global)
Media Center (news articles, newsletters, webinars)
Career Services (Job Board, CV Database, Startups & Ventures, GAMP (Global Advisory & Mentoring Platform))
Live feed (check-in, trips, etc.)
Life-long learning opportunities
Much much more...
There are no new passwords to remember, you can login to the CEMS Alumni Platform with your existing cems.org credentials. If you wish to activate your CEMS account on the new platform, you will need to send in a "reset password request" through https://www.cems.org/lostpassword.  Make sure to update your contact information after logging in so we may stay in touch. 

Students & Alumni
In order to accompany students in their life in CEMS-accredited institutions and to provide them with support throughout their learning, we facilitate student life with our student and alumni network.  From mentoring, academic/ pedagogical collaboration, Alumni at Corporate Partners, Global Alumni Week and local/ global events, students and alumni are able to collaborate and exchange at many levels. 
CEMS Mentoring Platform
The CEMS Global Alliance Alumni Association is proud to offer this exclusive CEMS Mentoring Platform as part of our strategic commitment to deliver valuable career services and personal development opportunities to our members.
CEMS Mentoring is turning privileged knowledge about employers, industries and career paths into common knowledge. Knowledge that enables you to land your dream job, obtain tips among your peers and broaden your horizons. 
Browse:

CEMS Alumni Advisors based on your desired sector, region, language, company or function. 

Select:

  Pick the advisor you would like to consult with based on their profile and availability. 

Prepare:

Prepare in advance to show respect for your Advisor's time. A good impression may open doors to your next career move.

Connect

: Consult over phone for career or regional advice, a mock interview, or resume / cover letter critique. Or gain insight from your peers, whether it be from mid-career to young alumni or mid-career to senior alumni, the options are endless.
Register on the CEMS Mentoring Platform today, here. Join us today as an advisee, advisor or both, and take advantage of this opportunity to provide advice to our current CEMS' students or seek advice among your CEMS' peers!
Feel free to view the registration videos below: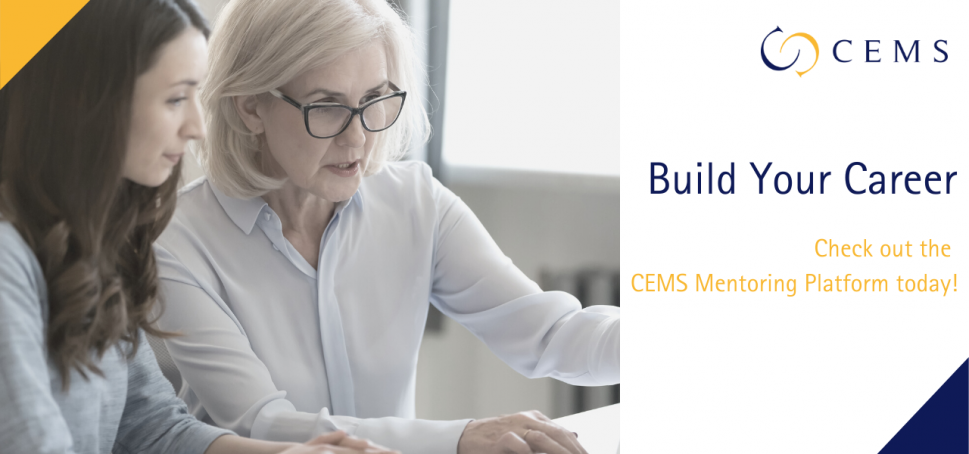 SAMP (Student-Alumni Mentorship Programme)
SAMP matches together students and alumni as mentors who can provide support and advice on studies, internships, exchange semesters, applications or career choices. It can also create new friendships and a unique long time relationship among the participants. 
Benefits For Student & Alumni Mentees
Better understand the prerequisites for the job or career path you are looking at.

Receive valuable advice on how to prepare (resumes, interviews, follow-up) for your job application or capital search.

Learn about alternative career paths related to your (current job), interests and major.

Increase your professional network.
Benefits For Alumni Mentors
Opportunity to actively build the CEMS network and personal professional network.

Personal satisfaction in helping to make a difference in the life of a student or another alumnus or alumna.

Opportunity to provide career knowledge and real-world experience.

Build experience in mentoring, coaching and advising in a safe environment.

Branding of your employer and/ or company.

Acknowledgement of the employer when recruiting high profiles.

Possibility to share experiences with other alumni mentors.

Involvement with CEMS students and alumni at a personal level.

Even More Benefits For Student Participants

Gain insight into the working world from someone who shares the CEMS experience.

Increase awareness of opportunities related to the major.
Download here more information about SAMP: