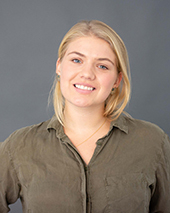 More info
The CEMS Global Alliance is a purpose led organization, powered by our beliefs that great leadership starts with self-leadership and societal progress requires continual exploration. In this series of interviews, we take a look at CEMS students and alumni that are contributing to make this world a more open, sustainable and inclusive world.
Humans of CEMS: 

On a mission to establish programming as a hobby for teens
Today, in our Humans of CEMS interview, we are happy to introduce you to Antonia Schein, a recent NOVA alumna and a cofounder of Codary, a start-up that teaches teenagers how to code, through video chat.
1. Where did you study CEMS and how did you get engaged?
I studied CEMS in Lisbon (Nova SBE) and Copenhagen (CBS). During my first year, I became a member of the Marketing Team in my local CEMS Club and was voted President of CEMS Club Lisbon in Fall 2019. I loved being an active member of the CEMS community and still profit from the network and friends I made there!
2. What was your motivation for starting your own company?
During my final master term in Copenhagen, amidst the global Covid-19 Pandemic, I founded an educational start-up called Codary. Codary teaches teenagers aged 12 to 18 how to code, through video chat.. Together with my two co-founders, we  want to reduce structural barriers that prevents young people from entering computer sciences and to enable access to promising skills and jobs for everyone, no matter what their gender, race or background.
3. Which challenges did you encounter in 2020 and how did you face them?
Unfortunately, many parents do not realize how important programming will be for their children. According to the World Economic Forum, programming will be among the top 10 most relevant skills as early as 2025, which is only  four years away. Many people and children are not prepared for this. With Codary, we aim to convince parents that programming is highly relevant for their kids' education - it takes energy, but it's definitely worth it!
And although the pandemic brought incredible loss and restrictions to our daily lives, it clearly pointed at our societal issues that we've been putting up with and ignoring for decades: domestic violence, unequal splits of care and housework, underpaid health care workers, the absurdness of long haul, climate damaging business trips around the world while video-calls are only one click away, but, most importantly, the desperate need to digitalize schools!
Teachers do not even own their own computers in most schools in Germany, nor an official email address. During the last year, students, teachers, and parents were forced  to communicate via video chat. This required digital literacy and is a giant step towards the digitalization of the educational sector which breaks the barriers of doubt towards our online services.
4. Do you have some tips for CEMS founders?
There is no better time to found a company than now. The job market is horrendous, industries are reinventing themselves and new ideas are needed more than ever! Go for it, even if you fail, you will have learned.