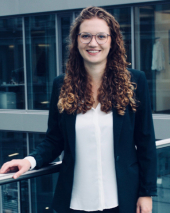 More info
In a global business landscape that's constantly changing, the most valuable skill a person can have is the ability to adapt. CEMS has spent over 30 years refining a unique curriculum with a focus on developing a global mindset that's delivered locally, in collaboration with the top academic institutions all around the world. Coursework is given real-world application through our close alliance with corporate and social partners — creating invaluable connections, collaborations and experiences. Many CEMS students and graduates have chosen to work with CEMS Corporate Partners. In this interview series, we investigate how they have been doing.
 
Today, we catch up with Ina Holl who completed her CEMS MIM programme with University of Cologne, Germany and Ivey Business School, Canada. She is currently working as a Project Consultant at E.ON Inhouse Consulting.
1. Why did you choose to work at E.ON Inhouse Consulting?
In my opinion, the energy sector is currently one of the most interesting and also most challenging industries. Working at E.ON combines this sector with consulting. I am able to deepen my knowledge of an industry I am curious about whilst at the same time develop the skill set that I would also acquire at an external consultancy. Another great advantage is the possibility to build an international network inside the company.
2. Can you tell us a bit more about your role at E.ON Inhouse Consulting?
Currently, I am working on a project to enhance customer satisfaction. We are working very closely with our customer, organizing a lot of meetings and workshops, and engaging with different stakeholders. What I really enjoy about working at E.ON is that I was able to take over responsibility for certain parts of our project right from day one. 
3. What is a typical day like at E.ON Inhouse Consulting?
To be honest, so far I haven't had a single typical day at E.ON. Some days I spend in Munich working side by side with our customer, others I spend in Landshut holding problem solving sessions with our IT colleagues - or with our call center agents located all over Europe. This flexibility, combined with our "office Friday" where everyone works at the headquarters in Essen, is a great mixture for me.
4. How did you get the job?
I read about E.ON in our CEMS newsletter. After talking to the recruiting team, I decided to apply and was invited to the Recruiting Day. At the end of day, I got an offer to start as a Project Consultant at E.ON.
5. Can you tell us something that most people don't know about working at E.ON Inhouse Consulting?
I guess the most surprising thing for me was the internationality. We have people from all over the world working at E.ON, most of them living in Essen or Düsseldorf. You can be sure of getting to know people with different backgrounds here (and also being offered a lot of travel advice). Additionally, our portfolio is quite international, too – something I wasn't really aware of before joining E.ON.
6. What has been the highlight of your job so far?
Definitely the Summer Strategy Days. Once a year, all E.ON employees travel to a place outside Essen for 2 days. This year these days were spent in the Netherlands. Besides talking about our current strategy and portfolio, a lot of activities were organized, such as driving an e-car or a Segway and – of course – a party. 
7. What makes working at E.ON Inhouse Consulting so unique?
At E.ON, we work in an exciting industry, we have a highly motivated international team, and we have a great feedback culture. For me, the combination of these three things is what makes working at E.ON so unique.
8. How has your CEMS MIM degree helped in your role?
The CEMS MIM program prepared me for my current role at E.ON in many ways. The greatest advantage is probably that CEMS already helps you to start building an international network and work together with people from all over the world whilst you are still a student. 
9. What advice would you give to someone considering working at E.ON Inhouse Consulting?
If you are interested in the energy sector and consulting, E.ON is a great fit. My advice would be to try to (talk to people) get in touch with E.ON colleagues even before applying. If you have any questions, feel free to not only check out our website and Facebook page, but also to visit our events or contact us directly. 
10. The CEMS program is often considered to be a bridge between the academic and corporate world. Would you agree with this assertion?
I definitely agree. On the one hand, CEMS brings you together with students and professors. On the other, they have career forums, events at the local CEMS clubs, and seminars where you get to know a lot of companies and are able to get first-hand information and advice from people working there.