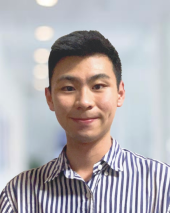 More info
The CEMS Global Alliance is a purpose led organization, powered by our beliefs that great leadership starts with self-leadership and societal progress requires continual exploration. In this series of interviews, we take a look at CEMS students and alumni that are contributing to make this world a more open, sustainable and inclusive world.
Today, in our Humans of CEMS series, we are happy to introduce you to Yufan Wu, who has recently started his journey at P&G as a Purchasing manager. In this interview, he shares what skills are needed to obtain his position, and what helped him develop them. He also gives an insight into the differences between Chinese and Australian working culture.
1. Tell us about yourself and your career! What is your department, position, and responsibilities at P&G?
I am a purchasing manager at P&G's product supply in Guangzhou, China. I am responsible for strategic raw material sourcing and purchasing for the Beauty Care business unit (i.e., shower gel, shampoo, skincare, etc).
2. What skills do you need to obtain your position?
Analytical & critical thinking skills are key, while it may sound vague, these skills were really handy in my preparation for the job. My daily work contains a lot of market, suppliers and competitor analysis. For example, I need to analyse why the raw materials have been fluctuating and what are the biggest players in the industry and their businesses. 
Negotiation is the second indispensable ability to have. My daily work is either negotiating with others or preparing myself with the knowledge for a better negotiation outcome. At the same time, I do believe that many of the skills are learnt from the job.\
3. What steps did you take to develop these skills? For example, it could be your past internships or activities experiences.
My analytical skills and critical thinking are developed (and are still developing) throughout my learning and internship journeys. CEMS courses and the business project equipped me with the necessary concepts and elementary business models from scratch. My previous consulting internship experiences also polished my skills in doing analytical work.
Having served as the Head of Corporate Relations and Head of Alumni at the CEMS Club trained my negotiation skill with different stakeholders and allowed me to understand the needs of different parties. (So don't hesitate to apply for a position at the CEMS Club because they could really help!)
4. How did you find Chinese working culture different from Australian or European? And how did CEMS environment and community help you in dealing with the differences?
I would say on average people tend to work longer hours and tend to focus more on efficiency in China than in Australia, but this is just a rough comparison and, in the end, it depends on the firms. Different firms could have drastically different working cultures because of the people working in them, and event less so due to the location.
CEMS provides excellent opportunities to interact with different people from different cultures. We have experienced a variety of working cultures and styles with our BPs, our classroom interaction and many diverse activities. I believe it has shaped our agility and flexibility to fit into various working cultures and prepared us more than adequately to be global citizens.