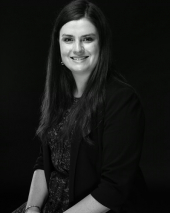 More info
The purpose of CEMS is to forge a global mindset within emerging business leaders. The result of these efforts is a graduate that is equipped with the knowledge, values, connections, and most importantly, the global mindset needed to lead — ensuring our constantly changing world changes for the better. 
In this series of interviews, we celebrate the incredible accomplishments and successes of CEMS alumni that are contributing to make this world a more open, sustainable and inclusive world. The CEMS Alumni of the Year is a joint campaign by the CAA in close collaboration with the CEMS Student Board, which gives the CEMS community the opportunity to learn about CEMS alumni and vote for your favorite candidate as the CEMS Alumni of the Year.
Meet Lorenn Ruster, who is the September candidate for the CEMS Alumni of the Year 2015 election. Lorenn graduated from CEMS in 2011 from The University of Sydney Business School with her exchanges at HEC Paris and Copenhagen Business School.
She is currently working as Senior Manager at PricewaterhouseCoopers Indigenous Consulting in Sydney, Australia, and is soon to be an Acumen Fund Global Fellow based in Kampala, Uganda.
1. How would you describe yourself in a tweet?
A big picture thinker and strategy consultant whose purpose is to contribute to tackling global social challenges and create lasting impact.
2. What are the three most important things that have personally shaped you?
Being born in Australia has enabled me to strive towards my potential.
My spirituality & family values, instilled during childhood and continuing to this day, have shaped my personality and the guiding principles upon which I make many of my most important decisions.
My experiences living abroad immersing myself in new cultures have fueled my insatiable curiosity about the world and my role in it.
3. What career accomplishment are you most proud of?
I am most proud of being a core member of a team that created PwC's Indigenous Consulting – an unprecedented partnership between a group of Indigenous Australians and PwC Australia. It's been wonderful to catalyze an idea flourishing into a true shared value, majority Indigenous-owned organization with over 20 staff nationally, committed to powering positive change in Indigenous Australia.
4. What advice would you give current CEMS students?
Spend time with yourself - understand the person you are, what makes you feel energized and alive. You don't have to have it all worked out, but a few guiding principles help. In my experience, the thing that may be the hardest to explain to others could also be the one you're meant to pursue. Be courageous to act where there is no well-trodden path!
The voting for the Alumni of the Year will take place from mid until end of October 2015 among the CEMS community and will take place in our social media communication channels, where the winner will be announced in the beginning of November.