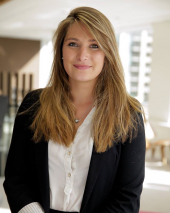 More info
In a global business landscape that's constantly changing, the most valuable skill a person can have is the ability to adapt. CEMS has spent over 30 years refining a unique curriculum with a focus on developing a global mindset that's delivered locally, in collaboration with the top academic institutions all around the world. Coursework is given real-world application through our close alliance with corporate and social partners — creating invaluable connections, collaborations and experiences. Many CEMS students and graduates have chosen to work with CEMS Corporate Partners. In this interview series, we investigate how they have been doing
Today, we catch up with Barbara Fouchet who did her programme with HKUST Business School and the University of Sydney Business School. She is participating in the F15® Graduate Programme with Arla.
1. Why did you choose to work with Arla? 
I wanted to start my career with Arla for a few reasons:
First of all, being French, I have always loved good food and cheese is one of my favourite foods so I knew I wanted to work in the food and beverage industry. 
Secondly, I was attracted to the global mindset of Arla. The F15® graduate program was the perfect match for me after I graduated because the program is truly international. I am able to work in 3 different countries in 3 different departments, making the F15® community a lot like being part of the CEMS community.
Thirdly, the core values of this farmer-owned cooperative that included delivering good growth and responsible business were what made me realize that Arla was the kind of employer I wanted to have.
2. Can you tell us a bit more about your role at Arla? 
For my first rotation, I was based in the headquarters in Aarhus, Denmark, where I was working in the sales development in Arla Foods Ingredients. My project was to develop nutritious and affordable solutions for people living at the bottom of the pyramid. Through this role I worked in R&D, sales, marketing, business development and had the opportunity to go to Bangladesh for a two weeks trip to better understand the market there. 
Currently, I am on my second project, and based in Stockholm where I work in the marketing department in the milk team. I am an assistant brand manager and responsible for developing a point of entry program for youngsters. My project allows me to work with different departments – event, digital, foodservice, product, innovation. It's been really exciting, as creativity is welcomed and I have been learning a lot about FMCG marketing. 
3. What is a typical day like at Arla?
A typical day involves being welcomed everyday by our cows (I called one of them Marguerite). We have cows in each of Arla's offices, and once you see them you already feel at home.  
4. How did you get the job?
I first met Arla at the CEMS Career Forum in Vienna. I had an interview with them and had a great first impression of the company. After the interview, I completed an online application followed by a skype interview, online tests and assessment center (interview and case study to solve in a group).  The key to succeeding through the recruitment process in my opinion is to be authentic and honest. Arla is all about the people. I believe that by being myself I got the job.
5. Can you tell us something that most people don't know about working at Arla or the organization itself?
Arla is a unique organization because it is a cooperative. Being a farmer-owned company makes you understand who you work for and why. We work for our farmers and how to get the most value from their milk. We always keep in mind the impact for our farmers when we work and take decisions, and that is something most people don't realize. 
6. What has been the highlight of your job so far?
The highlight of my job so far was my two weeks trip in Bangladesh. It was for my first project and I got challenged and was put completely out of my comfort zone.
The trip was a wonderful learning experience in leadership and responsibilities. I learned how to manage diverse cultures and had many pleasant surprises. Some of the project initiatives included conducting focus groups with women living on less than $2 a day to better understand what healthy food means to them. I also met potential customers, NGOs and did market visits. After the trip, I came back to Denmark eager to do more to ensure that my project could have an impact on people living in emerging countries.   
7. What makes working at Arla unique?
For me, Arla foods is a unique working experience for three reasons:
International Growth: It is much more than a company selling milk in Scandinavian countries. The company is trying to expand into emerging countries to bring health and natural goodness there and I am proud to be part of this journey. When I was in Bangladesh I got a much clearer sense of my role within a big company when you know what impact you can create.
Innovation: You might think that the dairy industry is a bit boring in terms of innovation, but you would be amazed at all the ideas we need to come up with to stay competitive. It is exciting to see how much we can do with milk. For example, for my current project where I am focusing on marketing milk, I am gaining insights into how we can make milk as a drink more cool. You realize how important brand management, product management and innovation are in FMCG companies.
The people:  Arla is all about the people. My colleagues all share a common passion for goodness and healthiness and care about having a good work life balance. By being an F15 graduate, I will always be part of this unique international community where we all support each other. 
8. How has your CEMS MIM degree helped in your role?
The objective of the CEMS MIM degree is to prepare you to be part of an international and diverse environment. The degree highlights different key skills such as leadership, general management, strategy, and teamwork in a multicultural environment. These skills were evident during my first project, especially because it was my first job experience.
I used all of these skills to start my project and applied the high standard of the CEMS degree to help me think further and better. Lastly, Arla is a CEMS Corporate Partner, so in the F15 program you easily meet CEMSies and it is a good start to create strong relationships. 
9. The CEMS programme is often considered to be a bridge between the academic and corporate world. Would you agree with this assertion?
I definitely agree with this assertion. The purpose of the programme is to merge the academic and corporate worlds together. The academic dimension is well represented through high quality lectures. The programme brings the corporate dimension through skill seminars, business projects and corporate speakers. Students have the opportunity to meet CEMS Corporate Partners throughout the degree and to start building a network. Lastly, the CEMS Career Forum is also a great opportunity for both students and Corporate Partners to find a great fit.  
Are you interested in joining the F15 Graduate Programme? Applications are currently open. To find out more about applying visit: http://www.arla.com/company/job-and-career/students--graduates/f15-graduate-programme/