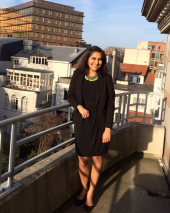 More info
In a global business landscape that's constantly changing, the most valuable skill a person can have is the ability to adapt. CEMS has spent over 30 years refining a unique curriculum with a focus on developing a global mindset that's delivered locally, in collaboration with the top academic institutions all around the world. Coursework is given real-world application through our close alliance with corporate and social partners — creating invaluable connections, collaborations and experiences. Many CEMS students and graduates have chosen to work with CEMS Corporate Partners. In this interview series, we investigate how they have been doing.
Rucha Sarma, a CEMS graduate from USYD and HEC, talks about her current experience doing Arla Foods' F15 Graduate Programme, an international graduate program which places you in a different business location and role for 3 different 8 month periods!
1. Why did you choose to work with Arla Foods?
Growing up in New Zealand, I had always been drawn to the dairy industry and saw it as an industry with tremendous potential. After graduating from CEMS, I worked for a year in Sweden and that's when I really got in touch with Arla and saw the great reputation it had, both as a consumer and employer brand. As a food lover, I was drawn to the healthy and delicious nutritious products it offered.
As a global citizen, I was motivated by the international nature of the F15 program and the international expansion journey of Arla. As a person, I strongly identified with the corporate culture and values of Arla that focused on good, responsible growth and giving back to the farmers. Arla Foods ticked all the boxes I was looking for in a future employer and the F15 program promised a great platform for my professional development so I HAD to apply!
2. How did you get into the F15 Graduate Programme?
It was a fairly intensive recruitment process. After the initial application, we had to do a reasoning test, followed by a Skype interview with an external recruiter and a HR representative from Arla. The final and most exciting part of the process was the Assessment Centre at the HQ where we spent half a day on a case study presentation, in-depth interviews and analysis of our psychometric tests. I think the most important aspect throughout the process was to be authentic and to show the "why" behind working for Arla.
3. What do you do in the F15 Graduate Programme?
I am currently doing my first rotation at Arla's Global Headquarters in Aarhus, Denmark. I'm working as an Assistant Brand Manager for the Global Milk team, focusing on Asia. I'm learning a lot about developing and creating a global brand that can be localised in markets which are quite different from Arla's Scandinavian roots. I work with our local marketing teams and design agencies to design packaging, develop marketing concepts, execute Marketing Campaigns and provide any support that might be required in our branding efforts across Asia.
4. What has been the highlight of your experience in the program?
Our first week of induction definitely has been a highlight so far! During the first week, we not only met the other graduates (who are all amazing individuals) but also learnt a lot about Arla as a company. We also got to see the whole value chain from cow to consumer and connect with different stakeholders. Waking up early morning to milk cows, going to a dairy to see how our products are processed and listening to senior managers talk about the essence and future strategy of Arla really reaffirmed our decision to work for the company.
5. What makes working at Arla Foods unique and outstanding?
As someone who has been a "serial intern", I have really been exposed to diverse working environments. In addition to the generous supply of milk, cheese and yoghurt samples, Arla Foods stands out because of 3 main reasons:
1. The people: I think Arla tends to hire and retain some genuinely nice people. People who are passionate about bringing healthy nourishment to the world, people who really go out of their way to help out, people who ensure that you are given opportunities to learn and lead, even as a graduate. People make a place and my colleagues are definitely one of the main reasons I love working at Arla.
2. The global journey: Arla is on an expansion journey from Northern Europe to Asia, Africa and the Americas. It's quite exciting to be on this growth journey and see how we can keep the essence of our European roots and tailor it to the needs of emerging markets. Sitting in Aarhus, I get to work with agencies in UK, local marketing teams in China and Bangladesh and colleagues from Germany, Russia, Denmark and India. As a CEMSie, it's great to see international management in practice in the real world!
3. The innovation: Now, dairy doesn't have that "sexy" image that a lot of other industries offer but because we sell something "as basic as milk", we have to rely on innovation, quality management and brand management to ensure that we clearly stand out in the marketplace. Working in a highly competitive industry, with stakeholders with omnivalent interests while staying true to our values and culture means it's a very exciting time to work for Arla! There's tremendous scope for creativity, innovation and learning opportunities!
Does Rucha's experience sound interesting? Then apply for Arla Food's F15 Programme yourself.
The deadline is January 10, 2016, so act quickly!
For more information on the program itself, check out Arla's F15 blog.