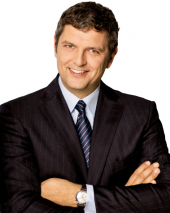 More info
The purpose of CEMS is to forge a global mindset within emerging business leaders. The result of these efforts is a graduate that is equipped with the knowledge, values, connections, and most importantly, the global mindset needed to lead — ensuring our constantly changing world changes for the better. 
In this series of interviews, we celebrate the incredible accomplishments and successes of CEMS alumni that are contributing to make this world a more open, sustainable and inclusive world. The CEMS Alumni of the Year is a joint campaign by the CAA in close collaboration with the CEMS Student Board, which gives the CEMS community the opportunity to learn about CEMS alumni and vote for your favorite candidate as the CEMS Alumni of the Year.
Dr. Andrea Castronovo is one of the first CEMS Graduates from 1990. He studied at Bocconi and HEC and was the founder and first president of the CEMS Alumni Association.  
He is currently BMW President for Central and Southeastern Europe and winner of the CEMS Alumnus of the Month: April.  CEMS recently had the opportunity to interview Dr. Castronovo.
1. What influenced you to join CEMS in 1990 & continue to contribute to the organization today?
 In 1990 it was the only truly European degree. For me, having elected Europe as my "home ground" it was simply "THE Choice" to be made.
2. What does the CEMS spirit mean to you? (Do you have any memories from your time with CEMS that you would like to share?)
I have one memory in particular, Lluis Puges who said "do not forget to dream".  We used part of this phrase as the slogan of our Alumni Association in the beginning which was "CEMS Alumni: always a step ahead. But do not forget to dream".  We even produced some T shirts with this sentence.  Some I believe are still in our homes. In mine for sure !
3. What was the most important thing that CEMS taught you?
That excellence has no boundaries and does not belong to one business school only.
4. What were your career steps after finishing CEMS? (Did the CEMS network contribute to your professional achievements?  If so, how?)
In the early days, we were the first CEMS Students. The Network then essentially consisted of our fellow classmates.  More senior people that could share their experiences or be "called on" by other CEMS didn't exist at that time. 
Nonetheless, the network, formally via the Alumni Association, and informally via personal relationships has always worked very well. Even today, you can just call up somebody and tell him/her that you are also CEMS and doors will open and a direct relationship will begin.
5. What makes a CEMS profile desirable for a position such as yours?
Three elements:  Multicultural experience, multi language skills, openness to constant changes and challenges.