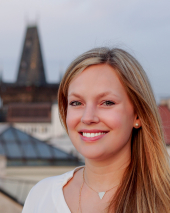 More info
Many CEMS graduates have chosen to work with CEMS Corporate Partners. In this interview series, we investigate how they have been doing. Today, we catch up with Michaela Tomkova who completed her CEMS MIM programme with University of Economics, Prague and Escola de Administração de Empresas de São Paulo-FGV. She is currently working as an EGP Analyst at Unibail-Rodamco.
1. Why did you choose to work with Unibail-Rodamco?
My decision to work for Unibail-Rodamco was influenced by the positive experience I had with the company during my CEMS year. I also really liked the concept of their graduate program. The European Graduate Program (EGP) is one year and with 3 assignments with a lot of international exposure. Depending on your home base you can experience and rotate in up to three positions in a minimum of two countries.
2. Can you tell us a bit more about your role at Unibail-Rodamco?
I am currently finishing my first year as an EGP Analyst. My first assignment was in Corporate Operations in Paris, followed by Shopping Center Management in Vienna and I am finishing my last one in Operating Management in Prague. As of September 2017, I will be staffed for a final two-year assignment.
Operating management at Unibail-Rodamco, which is essentially asset management in other firms, is part of the core functions in the company. The job of an operating analyst is not only analytical. Getting an understanding of the business & performance of the assets and individual tenants are very important as well.
3. What is a typical day like at Unibail-Rodamco?
I would say that a typical day at Unibail-Rodamco doesn't exist. Depending on the period of the year, you have certain weekly and monthly tasks as well as different coordination meetings. In addition to these, there are long-term projects which you can get involved in despite them reaching out of the scope of your own department. I, for instance, have just taken over the CSR agenda for the Czech region.This is not your typical, run off the mill 9-to-5 job. You need to anticipate staying longer during busier periods and be dynamic.
4. How did you get the job?
Unibail-Rodamco organizes an international business game every year, URmall. I participated in it and got into the finals and was therefore invited to the second round of interviews. There was a half-day long assessment consisting of an interview with the Managing Director for the CEE region and 5 interviews with heads of departments. The evaluation process was fast – I got the notice approx. two days after the interview and the official offer within a week.
5. Can you tell us something that most people don't know about working at UnibailRodamco or the organization itself?
Knowing a bit about commercial real estate before joining the company I expected a much more rigid environment. In the past years the company has been investing a lot in the start-up scene, developing and promoting young entrepreneurs through UR Link, a start-up accelerator owned by Unibail-Rodamco, and hosting the co-working spaces in its headquarters. The Group is acting quite flexibly towards modern trends such as shared economy, big data and many others. UnibailRodamco is also committed to the environment through its CSR strategy, ´Better Places 2030´.
It is surprising to see in how many new initiatives Unibail-Rodamco is currently investing. For a real estate company, we are very much at the forefront of innovation. I don't believe there is another company in our industry which comes close to what we do.
6. What has been the highlight of your job so far?
The most essential part for me is the people that I get to work with every day. This includes my fellow EGPs, but also my managers from whom I can learn so much on an ongoing basis. The fact that I can see how I am progressing both personally and in my career makes this job rewarding.
7. What makes working at Unibail-Rodamco unique?
Unibail-Rodamco, while being a French company, has a surprisingly flat hierarchy. People respect and care for each other. Here, your colleagues are very accessible, whether you need an explanation, a brainstorming partner or even delegating tasks. If you are proactive you will get the support you need for your project, provided it makes commercial sense.
8. How has your CEMS MIM degree helped in your role?
I believe that CEMS students are very strong in communicating and presenting, which are skills you need to succeed not only at Unibail-Rodamco but anywhere. Working at Unibail-Rodamco you need to stay up-to-date on current topics, be flexible, open-minded, innovative and committed. This is the mindset that CEMS instills in their students and what makes CEMS students so effective.
9. What advice would you give to anyone considering working at Unibail-Rodamco?
Be proactive, show engagement and don't be afraid to ask questions.
10. The CEMS program is often considered to be a bridge between the academic and corporate world. Would you agree with this assertion?
CEMS students closely collaborate with companies during their Business Project, their mandatory internships, and during skill seminars and events hosted by the corporate partners. CEMS students get taught to put theory to practice.