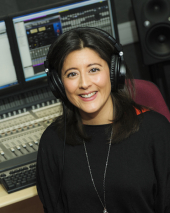 More info
The purpose of CEMS is to forge a global mindset within emerging business leaders. The result of these efforts is a graduate that is equipped with the knowledge, values, connections, and most importantly, the global mindset needed to lead — ensuring our constantly changing world changes for the better.
In this series of interviews, we celebrate the incredible accomplishments and successes of CEMS alumni that are contributing to make this world a more open, sustainable and inclusive world. The CEMS Alumni of the Year is a joint campaign by the CAA in close collaboration with the CEMS Student Board, which gives the CEMS community the opportunity to learn about CEMS alumni and vote for your favorite candidate as the CEMS Alumni of the Year.
Meet Lorraine Ansell, the October candidate for the CEMS Alumni of the Year 2016 election. Lorraine graduated from CEMS in 2005 from London School of Economics with her exchange at ESADE Barcelona. She is currently a Bilingual Female British RP and Spanish Voice over artist in London. Previously she worked at Amnesty International and L'Oreal in London.
1. How would you describe yourself in a tweet? 
Creative, chatterbox, dancer that loves life, food, travelling and people. A mix of cultures. Learning every day. Talks for a living. 
2. What are the three most important things that have personally shaped you?
Education: Not just academic education but all learning can develop you so much.
Friends/family: They ground you but also support you to follow your dreams.  

Rejection: After being rejected, you become stronger and wiser. You learn, no matter what happens. Don't fear it. 
3. How did the CEMS network contribute to your professional achievements?
The network is amazing. It opened my eyes to so many cultures and experiences; it gave me so much confidence and I made so many friends. I still rely on the network today. From business advice to a simple introduction, the network makes the world a much friendlier place to be. 
4. What advice would you give current CEMS students?
Be resilient, flexible and, above all, enjoy everything. Life works out fine in the end, so keep doing what makes you happy. Learn from every experience, good or bad. Find out what your passions are and never be afraid of taking risks: sometimes it is worth it!  
The voting for the Alumni of the Year 2016 will take place end of October among the CEMS community and will take place in our social media communication channels, where the winner will be announced in the begin of November.