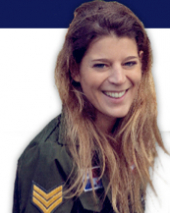 Verena Berlisg graduated from CEMS in 2004, taking the trinational track through WU Vienna, HEC Paris, and the Univeristy of Bocconi.  She is the founder of Unique Allure, a Paris-based accessories brand.
1. What influenced you to join CEMS & continue to contribute to the organization today? 
My cultural background. As I'm French-Austrian, I went to the French school in Vienna and grew up in a multicultural environment. So it was very important to me to add an international master to my Business Administration studies in Vienna and to have the opportunity to work in an international environment later. Furthermore, the reputation of HEC in France is enormous. As a Frenchy, I had to take the opportunity to make my exchange there!
2. What does the CEMS spirit mean to you?
To me, the CEMS spirit has a very special drive. CEMS students are very ambitious and open-minded, much more than average. The CEMS spirit is European and I think that's the clue in comparison with other great International master degrees. The European network is crucial when everything goes global nowadays.
3. Do you have any memories from your time with CEMS that you would like to share?
I will not forget the handsomely dressed Italian tutors at the Bocconi University, the HEC campus spirit (which I didn't have back in Austria) and the memorable graduation trip & party in Stockholm/Helsinki in November 2004.
4. What was the most important thing that CEMS taught you?
Definitely intercultural skills. I learned a lot in the teamwork-sessions during my 2 exchanges abroad. Especially when we had to work on case studies, the group was often composed by people from allover Europe. It was so funny to see, how different our rhythms were, our mentalities with regard to deadlines, accurateness, etc…
I'm thankful for this experience/training, as I encounter it on a daily basis now! My Austrian mentality has learned to deal with my Italian supplier's: 'piano piano va lontano!';)
5. What where your career steps after finishing CEMS?
Thanks to the CEMS network and thanks to my different choices/'parcours' during the master, I had the opportunity to work for Dior (LVMH Group) in Paris and for L'Oréal in Milan.
The CEMS network includes a lot of renowned companies and you have very quickly the opportunity to meet the different HR departments during annual meetings and events organized by CEMS.
6. Did the CEMS network contribute to your professional achievements?  If so, how?
Today I can say that 2 CEMS-courses have considerably influenced my career choices and my professional achievements!
'Strategic Management in Fashion Companies' at the Bocconi University in Milan
'Stratégies de marque' at HEC in Paris
The first one confirmed my passion for Fashion and for the luxury industry, and the second one is accompanying me everyday. I love concepts and to observe/analyze brand strategies and that's probably also why I have decided to launch my own concept & brand 'Unique Allure'.
7. How is a CEMS profile desirable (or helpful) for an entrepreneur such as you?
CEMS Alumni are very well connected (internationally) and have considerable working experience when graduating! They are pro-active & independent on a very early stage (you will often find CEMS students being engaged in other causes at their university or working besides their studies). 
 So with all these components, I think it's just a matter of time and coincidences until they make the step to entrepreneurship! …if they have not yet reached a nice management position, where the entrepreneurial spirit is as important as when you have your own company.