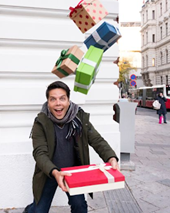 More info
The CEMS Global Alliance is a purpose led organization, powered by our beliefs that great leadership starts with self-leadership and societal progress requires continual exploration. In this series of interviews, we take a look at CEMS students and alumni that are contributing to make this world a more open, sustainable and inclusive world.
Humans of CEMS: 

If you really want change, focus on your core product.
Today, in our Humans of CEMS series, Georg Woschnagg explains the founding of the Student Board, reflects on his experience in setting up new mobile phone operators and shares advice on how young people can drive change for the greater good within their organisations.
1. 

During your time as a CEMS student you co-founded the CEMS Student Board, the very institution that is now interviewing you. Please take us back to 2000 and tell us the story of how the Student Board came to be.
The CEMS Board consisted by then of Academics, Corporate Partners and CEMS Alumni and all were discussing the CEMS curriculum, but no students were actively part of this debate. It was decided to find a way for the student voice to be represented to enjoy a hands-on approach and different viewpoints to the CEMS curriculum. Our first meeting took place in Paris, in April 2000. The Student Board was formed and developed by those with a true entrepreneurial spirit and this spirit has continued for many years as well as creating a very special bond between those who have been a part of it. I'm still in contact with most of them. We came together to implement change in a positive way to revolutionise CEMS. It was a lot of fun and in the end, we changed a lot. We are very proud of what we achieved and it is wonderful to see how far the Student Board has come since those early days.
2. 

After your studies, you worked in the telecommunications industry and there you, among other tasks, launched a new mobile operator in Serbia. What was the most important learning from that time?
We bought a mobile license in Serbia and set up a new mobile network and organisation from scratch. It was a start-up at full speed as we had to launch in 7 month. The interesting part was that you always had to come up with something new with every obstacle in the way. We said: "Ok, we want to enter the market. Let's put all the other rubbish away. We're not going to copy the competition, we're going to make it in a different way". We didn't have much time for the recruitment process for 280 people, so we went into restaurants and approached waiters or others who were eloquent and service oriented. 
Every time we had a new idea, the next week we implemented it. This is the difference between a big corporation and a small one. Actually, this was the part that I truly enjoyed and when I returned to a big corporation in Austria, I realised that it was a tank and moving a tank is much harder; it takes more time.
So I told them: "Please don't give me something boring". So I got all the exciting new projects from a turnaround case where we at the end became the 2nd  largest operator to the launch of new IT Cloud Services in Austria and CEE. It was this mentality where you always have to find new ways to reach the goal. That's where I realised that entrepreneurial spirit, which I always had inside and I acquired at university, that's the thing I really enjoy.
3. 

After your Telco career, since 2015, you have been involved in several social enterprises, which we'll talk about later in a bit more detail. But first, what was driving the decision to leave the corporate world and fully focus on entrepreneurship that benefits society?
I reached a point where I asked myself what to say when my children asked me what I actually achieved. If I said: "I was responsible for launching BlackBerry or IT Services" they would respond: "What is this? Did you save more animals, trees or help our society with your work?"
I was doing a lot of social activities myself, because I was five years living and raised in Kenya. So this was one side close to my heart to do something social. But then I thought: If I'm doing social activities like helping homeless people, I can only do one thing. I can help one person, but is there a possibility that I can scale it up? How can I help even more people?
That's why we were sitting and thinking of business models of how we can actually do better. We were brainstorming with non-profit experts and people with business backgrounds in order to come up with great ideas. After a quick check on the internet, we found out that another organisation was already doing the same thing. Why should we compete with them? This was old school. And then we realised: There are a lot of great organisations doing incredible good stuff. Let's ask what they have as a challenge! And the challenge was fundraising and engaging people. These non-profit organisations are helping people, but they need support from society and from fundraising. So we tried to come up with some fundraising ideas.
As we were used to being dropped somewhere to launch a mobile operator, someone had the idea: Make a social mobile operator! The model behind this is a really good one because you can generate some sort of a sustainable profit out of it. A mobile operator has 50-60% of its cost in marketing and sales. So, we decided to cut down on that. We were establishing a model of a branded reseller with strictly limited marketing cost and focusing on partnerships.
As a social business we try to maximise the social impact but to work efficiently in a financially sustainable way. A new subscriber can pick out of over 250 non-profit organisations which will receive 10% of the monthly fee. This was the second cool aspect because we reached the younger generation where all the Non-profit organizations had a problem, so we gave them a product that they can buy while doing good and staying updated on the progress of the different projects. We wanted to set up a role model to prove those who believed that sustainability was not possible in their industry wrong. Especially in the tech, finance and insurance industry sustainable options were at that time non-existent. 
4. 

So you already explained the concept of your social telco company

goood

and maybe you can share some results that you've been able to achieve.
goood was a big success for us because we were not just helping one person, but the whole community generated hundreds of thousands of euros as donations. We managed to pay out 250 projects so far and the community is the main driver for new ideas. Soon, we changed from not just focusing on social projects to also allowing customers to compensate for one ton of CO2 for their 10%.
We are convincing other companies that actually with simple twists in your business model you can turn your business to reach a positive impact. We are talking to companies and showing them different business models. We conducted university studies about how a normal company can use different elements to change. And the important stuff is: You have to do it with the core product.
We believe that corporate social responsibility is nice. But if you really want to have a positive impact, focus on your core product. The best way is to use digital transformation to change your business model for good. Customers and also employees are longer engaged and believe in the mission. Being an entrepreneur is not easy. But if you have one thing that you work on that's for a greater good, this is such a strong power.
Because we were pretty good in setting up projects and helping others, the next venture followed a similar idea: We help organisations to enter the digital world. The social need and the end user interaction are the most important. Then we find the right technology which is easy for the consumer. For example we are currently setting up the largest marketplace for doing good in Austria where you can with a simple click engage in a social or ecological project and track your impact or purchase sustainable products. In another project I supported the development of a mobile solution for lonely people connecting with volunteers for a 15min call, which was especially in lockdown time a big success. 
It's a lot of stress in the background for us, but in the end it is the most efficient way to reach a bigger group, and the non-profit can focus on how to help more people. When I look at all the projects that I was doing, we have raised a total of 900,000 euros in value for a good cause with very small contributions from consumers but from a large community. This is something which I as one person would never have contributed by myself.
5. 

What advice would you give to current students who want to work in a job that is both good for society and also able to pay their bills? How do you find such a job, especially in the early years?
You don't have to do it the radical way that I did. Stay in a company, try to change the company. Position yourself and if you manage to convince the company to change, then you're going to benefit. Whatever you do, you know you do it for good. And, coming back to the telco story, what happens if one day a competitor will copy our model? Then we're the winner! I'd be really proud because then the 10% would be a lot more money that will be used for great social or ecological projects, more impact that we could ever have raised.
I am supporting a global project for the Race to Zero by the UN. This is a great opportunity for a young person out of university. Look at a good example of how you can really change the core product. In the end, every company has to tackle this issue in order to become greenhouse gas neutral. Companies need you as a young person entering the company with the right mindset and as a tech savvy. This is a way you can turn around the company. It is not easy but at the end they will be happy because if they don't change now, another company will come up with a new ecologically friendlier solution. They will pay less C02 tax, more companies will list these vendors to reduce their footprint and more consumers will select their product.
For instance, in this transformation process, technology can help you create a bigger impact.  You can now communicate with the customers directly, you can strongly engage them easier than in the past where the CEO just decided where the money goes. We turned this around. We had the customers decide where this money should go. This is the first step in engaging. We implement it in a very fast way and see how the result is, but we're always engaged with the customer. If you are young, this is a real value that you can bring into any company. Because you know which products you would like to have in the future.
If you come in with this mindset, whatever you do, it would also benefit you because you learn to lead change in the whole company. This is a chance you don't have every day.
6. When you look back at your time as a CEMSie, was there any experience or learning that benefited you throughout your career that you gained during the programme?
Yes, a lot actually. Those extracurricular activities. These were the parts where you had to connect with new colleagues and finish a project pretty fast. This was how you work together in a team, how everybody can bring ideas and where you have discussions of different viewpoints.
A project where you sit and just listen is nice, but every time you do activities yourself, that brings you forward. Everything we learn there, we learn for life because it changes us as personalities. Those people who were setting up the operation, for example in Serbia, they had an attitude of "work-hard, party-hard", but these were the same people you found somewhere else in another innovative project again.
When you set up a new company, you need another skill type, different from the skill type needed for day-to-day operations. When opening a new hotel, these companies always bring the same people in because these people are flexible, and they know how to solve problems. And after a certain time, running an existing operation will get too boring for them.
Same for me when they asked me to stay another year at Telco. I wanted to change again and you have to push yourself always into something new that keeps you creative.