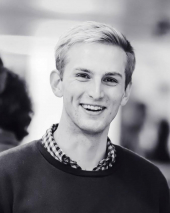 More info
The CEMS Global Alliance is a purpose led organization, powered by our beliefs that great leadership starts with self-leadership and societal progress requires continual exploration. In this series of interviews, we take a look at CEMS students and alumni that are contributing to make this world a more open, sustainable and inclusive world.
Humans of CEMS: Reinventing learning together with the CEMS community
Today, in our Humans of CEMS series, we would like to introduce you to Paul Ruwet, a co-founder of SpeedUpEducation and one of the organizers of the first CEMS Hackathon. In the interview Paul uncovers the history behind the event and the main challenges that it aims to solve. 
CEMS Hackathon will bring together members of the CEMS community from all over the world to create solutions that will contribute to the success of lifelong learning during and after CEMS. The participants will ideate on their solutions in teams, supported by coaches from Google, McKinsey, and also by various CEMS alumni. 
1. Could you tell us more about SpeedUp Education, how the idea was born, developed, and what it is about now?
During my CEMS academic semester abroad at Tsinghua (CEMS Chinese Academic Member), another CEMS Student Florian Tiller, and I worked on the business project with McKinsey called "Speed Up Education" or SUE for short. The Business project involved research by some 17 teams of 4-6 people each in 17 CEMS schools.  
The goal was to identify the speedbumps or hurdles preventing schools from adapting to the ever-increasing speed of change of our society. A particular challenge for society today is the risk of automation of many jobs as we know them, and the resulting need to adapt today's curricula, while also re-training people whose skills receive less demand than before because they either cease to be relevant or are automated away.
There was a lot to learn, and in the process we interviewed many fascinating people from academia, governments, non-profits, corporates, start-ups and other communities. 
 
Having collectively worked on this very important issue, it felt odd to have to stop at the end of the business project, putting in a metaphorical drawer all the interesting insights we uncovered.

Florian and I were joined by Abdul who worked on the Hong Kong team of the project and with Pawel from Poland. In fact many students who had taken part in the business project experience also joined the adventure.   
Our objective. To re-think education and to put this crucial topic at the centre of the conversation. Work continued, with research coordinated by Daniel, a hackathon in Warsaw organised by Pawel and a project with New Generation Consulting (NGC) to make our hackathon concept more scalable. This excellent work is the basis of our preparations for  the first CEMS Hackathon taking place in the next few weeks.  
 
2. SpeedUp Education is currently involved in the organization of the CEMS Hackathon. What is your vision for the project?
In a nutshell, our vision is that the CEMS learning experience should not end after graduation. It is important to keep the knowledge flowing and people interacting.

We're convinced Design Thinking is the best way to include the CEMS community in the  decision making process to find creative solutions.  Together with the community, the work of NGC on the hackathon, coaching by McKinsey and Google facilitators, we believe this is the way to leverage everyone's ideas.
 
3. What lifelong learning means for you and how can CEMS Hackathon contribute to the lifelong learning of CEMSies?
For me lifelong learning has three key aspects when it comes to knowledge & skills:
Maintaining the knowledge. The memory is in a constant process of erasing itself and so reviewing is a must.

Updating what you've learned before, because science makes new discoveries so we continue to relearn.

Creating new areas of expertise, because the skills and knowledge you'll need during your life are not necessarily the ones you were taught when you were studying.
CEMS is already very active in lifelong learning, there are frequent events being organised for/by alumni, a broad offering of executive education in the network and by virtue of the great friends you meet during CEMS, you can learn a lot with them.  Could CEMS do more ? Surely, and that's the whole point of the Hackathon. I won't give the ideas we already have, because what we need is the ideas of the whole community and we wouldn't want to bias their creative process.
4. Could you tell us about CEMS Hackathon, when will it take place, who can participate, etc ?
You can find all the information on cems.org/hackathon. Most important to bear in mind is to register until the 20th of February either with your team if you have one, or alone if you want to meet people.
5. What top 3 things would you advise current CEMS students?
Embrace change and act upon it: graduating now means that you'll have to navigate the ever-growing challenges of climate change, inequalities, software and robots "eating the world", mass surveillance and challenges to democracies, to name but a few. There are changes you can't prepare for, but for those for which you can make sure you act proactively.

Never stop learning: you need to learn what will help you navigate the ever-changing World. We have amazing tools at our disposal to learn, access more knowledge than one could ever need, discuss, create and grow, let's make sure not to use them only for funny cat videos. 

Make the most of CEMS:
          -Learn as much as you can - even digitally!
         -Take part in as many events as you can - even digitally!
         -Meet a lot of people from all over the world -  even digitally!
         -Have fun - even digitally!