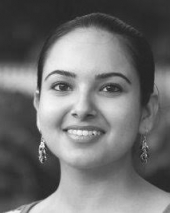 More info
Meet Harsonal Sachar, who is the August candidate for the CEMS Alumni of the Year 2016 election. Sachar graduated from CEMS in 2011 from National University of Singapore with her exchange at London School of Economics and at Bocconi University Milan. She is currently a Knowledge Consultant in the Global Diversity & Inclusion Practice and Consumer Sector at Russell Reynolds Associates in Toronto, Canada.
1. How would you describe yourself in a tweet? 
Singer and acoustic guitar-player. Baker and chocolate lover. Born in India, and arrived in Canada via Singapore, Oman, UK and Italy.
2. What are the three most important things that have personally shaped you?
Family: My family has taught me to work hard, be humble, surround myself with great people and importantly, to have a sense of humor.

Education: I truly believe knowledge is power, and that when you know better, you do better. 

Curiosity: The reason for successful friendships, hobbies and travels.
3. How did the CEMS network contribute to your professional achievements?
The CEMS network has ensured I have friends all over the world. Via the network, I have even recruited a candidate for my employer, Russell Reynolds Associates! Importantly, my global experience at CEMS has set me up for success in my current role, focused on Diversity and Inclusion.
4.  What advice would you give current CEMS students?
When choosing your career in a world of opportunity, find your passion and success will follow. 
To live a truly rich life in a world of privilege, show compassion. 
In a world of instant popularity, "Likes" and "Followers", know that authentic relationships take time.

The voting for the Alumni of the Year 2016 will take place end of October among the CEMS community and will take place in our social media communication channels, where the winner will be announced in the begin of November.