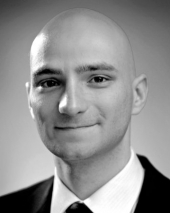 More info
The CEMS Alumni of the Year is a joint campaign by the CAA in close collaboration with the CEMS Student Board, which gives the CEMS community the opportunity to learn about CEMS alumni on a monthly basis and vote for the favorite candidate as the CEMS Alumni of the Year.
Meet Jan Hendrik Milark, the October candidate for the CEMS Alumni of the Year 2017 election.
Jan Hendrik Milark graduated from Tsinghua University School of Economics and Management, in 2013 with his exchange at The London School of Economics and Political Science. After 4 years as a consultant at McKinsey & Co., he set up his own e-commerce business in China.
Currently, he is the CEO of YIDU Company. Although he is very busy with his business, he always goes back on campus and shares his experience with CEMSies. 
1.How would you describe yourself in a tweet?
I am a very active person with a high energy level. I love challenges, learning new things and enjoy going on paths nobody has gone before.
2.What are the three most important things that have personally shaped you?
USA high school exchange: I realized that it's often "not right, not wrong, just different".
Master at Tsinghua: I was one of the few foreigners in a mostly Chinese taught program.
Founding a business: Set up my own e-commerce business in China during a sabbatical over the last year"
3.How did the CEMS network contribute to your professional achievements?  
Making friends: Through the CEMS program I got to know lifelong friends from all over the world.
Multicultural teams: Working in teams with different backgrounds is something CEMS prepared us very well for.
Different locations: Experienced student life in different parts of the world."
4.What advice would you give to current CEMS students? 
Take the time to get to know your classmates, there are so many interesting stories from people with so many backgrounds! Definitely go on exchange, ideally to a country with a different culture, this will be the most rewarding experience! Have fun!
The voting for Alumni of the Year 2017 will take place by the end of October amongst the CEMS community via CEMS social media communication channels. The winner will be announced at the beginning of November.