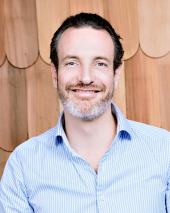 More info
The purpose of CEMS is to forge a global mindset within emerging business leaders. The result of these efforts is a graduate that is equipped with the knowledge, values, connections, and most importantly, the global mindset needed to lead — ensuring our constantly changing world changes for the better. 
In this series of interviews, we celebrate the incredible accomplishments and successes of CEMS alumni that are contributing to make this world a more open, sustainable and inclusive world. The CEMS Alumni of the Year is a joint campaign by the CAA in close collaboration with the CEMS Student Board, which gives the CEMS community the opportunity to learn about CEMS alumni and vote for your favorite candidate as the CEMS Alumni of the Year.
In July, we met Maximilian Tayenthal, Co-Funder and CFO of N26, a German based bank that uses advanced technologies to operate transactions.  
1. How would you describe yourself in a tweet?
Cool, calm, collected
2. What are the three most important things that have personally shaped you?
Looking back on my career, I tried a lot of things: I studied law, started a career in consulting, moved to a corporate company, worked in legal advisory. At some point, I pivoted and decided to start my own startup. Starting N26 would definitely be the first and even the most significant event in my life. It wasn't an easy decision and it meant a lot of change—from a safe route to uncertainty, without a proper income in the first months. I would definitely do it again!
My time studying at CEMS would be the second. It had a big impact on both my education and personal life. With CEMS, I had the opportunity to work and study abroad in France and the Netherlands. In my opinion, your personal development—no matter if it's your business career or private life—depends a lot on the people you interact with. Spending time abroad forces you to leave your comfort zone. You learn a lot about yourself.
In general, my studies had a strong influence on my career so far. I never was a good student at school and I can still remember the school president telling me "a student like you happens only once in every ten years." And he didn't mean that positively.
Switching from secondary school to university was a very positive turnaround. In Austria, where I come from, the school system is still very conservative. University, however, empowers you through autonomy and teaches self-organization. That learning style better suits my personality
3. Did the CEMS network contribute to your professional achievements?
When building a startup, trust is one of your key drivers. While the company is growing, you need to delegate responsibility. Your success largely depends on the team you put together. So at N26 we put a high emphasis on recruiting and HR in general. It is crucial to find the right people when you want to build a team that you can trust. CEMS is internationally known for the best business universities and schools around the world and we've hired many people coming from a CEMS background.
4. What advice would you give current CEMS students?
When my co-founder Valentin and I founded N26, we had no experience in the startup business at all. Business students are used to internships in corporates, consulting and banking. Still today, practical experience in startups is not part of the curriculum at most universities. That's a pity because startups teach you valuable lessons. My advice to current CEMS students is to gain practical experience at a startup. Looking back, working at a startup was by far the most meaningful experience of my business career so far. And it had a steep but constructive learning curve.
5. As a Co-founder and CFO of N26, what are the invaluable lessons you have learned to sustain the business?
One of the most important things I learned is that you should identify which customer problems are the most crucial for building a successful business. Many people come up with something that does not solve an existing problem.
A second key learning is that it pays to be product driven and launch your offer early. Then develop and improve with what you learn from customer behavior and their feedback. Always base your decisions on data, don't let your gut feeling decide. Most importantly, don't make concessions when it comes to integrity: The right team is key to grow a successful business.