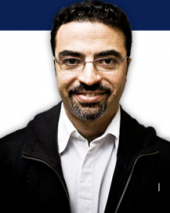 More info
The purpose of CEMS is to forge a global mindset within emerging business leaders. The result of these efforts is a graduate that is equipped with the knowledge, values, connections, and most importantly, the global mindset needed to lead — ensuring our constantly changing world changes for the better. 
In this series of interviews, we celebrate the incredible accomplishments and successes of CEMS alumni that are contributing to make this world a more open, sustainable and inclusive world. The CEMS Alumni of the Year is a joint campaign by the CAA in close collaboration with the CEMS Student Board, which gives the CEMS community the opportunity to learn about CEMS alumni and vote for your favorite candidate as the CEMS Alumni of the Year.
Ouriel Ohayon graduated from CEMS in 1996, studying at HEC and ESADE. He is the co-founder and president of the startup Appsfire and the winner of the CEMS Alumnus of the Month: May.  CEMS recently had the opportunity to interview M. Ohayon.
1. What influenced you to join CEMS & continue to contribute to the organization today? 
When I was studying at HEC I started to become friends with many foreigners who where studying there. I was at the same time frustrated with my level of practice in foreign languages, which was purely academic and was kind of ashamed of my massive French accent - no matter how sexy people would claim it is.
I was also coming back from a 1-year internship in England at Reckitt Benckiser and I knew that a career out of France was something I would look forward to. I became naturally very interested in CEMS at this stage when I came back from this internship. 
I always was interested in the Latin and Spanish culture: books, music...and the possibility to go to ESADE in Barcelona and see that world was also a strong motivation.
2. What does the CEMS spirit mean to you? (Do you have any memories from your time with CEMS that you would like to share?)
I have a wonderful memory of my time at during the CEMS program. Probably some of the richest and most enjoyable years I had as a student: The wonders of discovering a new way of life, the stimulation of meeting so many people from all over the world, all the gatherings. CEMS is more than just an academic program is a breath of fresh air for your brain, your sense of judgment and your learning abilities.
3. What was the most important thing that CEMS taught you?
Adaptation. You have to learn a lot new things in a very short period of time.
4. What where your career steps after finishing CEMS?
I came back to France briefly to finish my curriculum at HEC. At the time serving in the army was an obligation in France. Curiously there was an option (very sought after) to work for a French company abroad: which is what I chose to do. I spent 18 months, back in Barcelona working for the Danone group.
Then I came back to France in the 2000 to create my first Internet startup, which I sold 3 years later. I then took a year break and moved to Israel to find out more about this country. I decided to stay there. I worked for AOL, which opened my eyes and confirmed my interest for small companies. I then joined a venture capital firm and created in parallel the French version of the leading tech publication Techcrunch which I ran for 3 years
I am now back to my roots and continuing as an entrepreneur by co-creating a 4 year old startup in the mobile apps world called Appsfire and more recently co-founded ISAI one of the leading early stage funds in France.