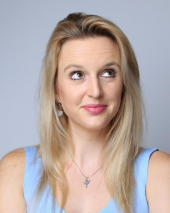 More info
The CEMS Global Alliance is a purpose led organization, powered by our beliefs that great leadership starts with self-leadership and societal progress requires continual exploration. In this series of interviews, we take a look at CEMS students and alumni that are contributing to make this world a more open, sustainable and inclusive world.
Please, tell us a little bit about your interesting career path. You have worked quite a lot in strategy consulting and pursued a PhD in investments, but this year you have started your own coaching business. What made you shift your focus?
Over the last years, I have met many very inspiring people who have achieved so much in their lives in both the corporate world and in academia. However, I came to the awareness that while these personalities had the best intentions to reach their next level, the full realization of their potential seemed to be limited as they were so often overworked, unhappy, "out of shape," sleep deprived, and basically struggling with their mental health. And that was just a mirror of myself.
During my PhD and in particular during the Pandemic, I started to focus a lot on mental health, became a certified hypnotherapist, working a lot with the autopilot, our subconsciousness which is 95% of our mind driving us every day. As a result, coming from a background of so-called overachievers, I've made it my mission to help others reach their next level with much less resistance and pain - so they can feel comfortable in their own bodies and be in the best mental shape to reach their full potential
Consulting and coaching are quite different areas of specialization. How did you complete that shift and what was the most difficult for you?
I wouldn't say that consulting and coaching are necessarily two completely different specialties because they both a) involve a client who needs support, b) have a prevailing problem that is very often not the target but just on the surface, c) require analytical and research skills as well as advising skills and expert knowhow.
The big difference is in the approach and the knowledge and insight required, however: Consulting requires helping the customer to solve his problem. This can involve many tools such strategy formation and business transformation, filling knowledge gaps, missing corporate capabilities or even accountability and politics.
Coaching, on the other hand, is about developing the client's ability to solve a problem on their own. The "problem" is of the client's own making, so the coach's job is to get the client to solve it again. This can take the form of increasing self-awareness, looking at problems from a different angle to approach them in a different way, and overall doing a lot of mindset, conscious and unconscious work through cooperative exercises and tools.
Being a self-employed coach is also about running your own business. What role does your education and professional background play in your growth as a coach?
Being a coach requires a lot, especially in terms of personal attitude and skills: Resilience, self-motivation, consistency, stress management, constantly stepping out of your comfort zone into the unknown, taking over full responsibility, acting in the present moment while thinking three steps ahead, analytical work, as well as being very people-oriented - just to name a few requirements for an entrepreneur.
In my case, studying around the globe exposed me to so many cultures, work styles and attitudes to life, operating in strategy consulting for many years, graduating with one of the highest academic standards, and working in the investment and start-up space, all of which gave me those very skills to become the coach I am today - to lay the foundation and grow from there.
There are very little coaches who have this background and skill set - which makes me and my coaching approach quite unique. The most common feedback I get from my clients is that they appreciate my background and the skills I bring along, because "I used to be one of them - I understand what it's like to be on the other side." And that is 100% true. I am not just a theoretical mindset coach; I have experienced the practice with all its dynamics – I know what it feels like and that is exactly the key "it is all about the feelings we experience – because we act on them".
What would you consider your biggest achievement? And what do you want to achieve in the future?
Many people would probably answer this question with something tangible, like my biggest success so far was getting my PhD or running my own business. But my answer is nothing tangible - it's actually a feeling. It's the feeling of having overcome resistance, obstacles, the impossible (for others), just yesterday's version of me – this reoccurring feeling of one's own personal power – everything is possible. My favourite quote is "You are your only limit".
And that's exactly what I want to keep on achieving in the future: to reach my personal next level while helping others to do the same. And this is 100% possible - because according to quantum physics and epigenetics, we decide and accept the environment we live in - we decide what thoughts we want to have, what feelings we let in and how we act accordingly, what our personality - our personal reality will look like - we have the power - it's all a matter of attitude.
What recommendations would you give to future CEMSies and those who are about to graduate?
The biggest advice I can give is: "Be the owner of your life".
Purpose and Objective: Having a purpose and working towards it is the cornerstone on which your mission, your daily actions, are based. Have a purpose and act on it! If you don't have one yet, read the books "Get ova it" by Devon Brough or "The school of Greatness" by Lewis Howes and you will have one afterwards!

Beliefs / Fears: Become aware of the beliefs and fears which are holding you back. Get awareness where they come from. Are these yours? Are they still serving their purpose - if not, change them to positive ones that work for you today. Just to give you one example of the belief "I have to work hard to become successful" – turn it into "Life is easy, and when I'm relaxed, everything turns out for the good, because I just attract it".

Mindset: Learn about the rules of mind, how your mind is wired, how it works. It is often my experience that we know so little about our mind, which is our daily engine. And then our mind is often driven by an outdated autopilot, an outdated software. Our personality is usually formed between the ages of 7 and 14, because it is during this time that the analytical mind is at its strongest, distinguishing between "subconscious and conscious"

(what is good software for us and what is not). So, one last question for you: when was the last time you gave your mind an upgrade? You know your iPhone will eventually stop working if the iOS or Android system hasn't been properly upgraded - that's exactly what happens to your body - it can't keep up any longer.

And my last 5cent input - read as many books as you can! And learn from the people who have either been on the level or gone through a similar process that you are aiming for! Feel free to reach out if my work and the level I am working on right now resonates with the one you are striving for.