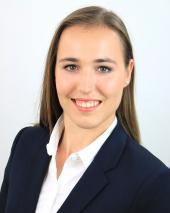 More info
In a global business landscape that's constantly changing, the most valuable skill a person can have is the ability to adapt. CEMS has spent over 30 years refining a unique curriculum with a focus on developing a global mindset that's delivered locally, in collaboration with the top academic institutions all around the world. Coursework is given real-world application through our close alliance with corporate and social partners — creating invaluable connections, collaborations and experiences. Many CEMS students and graduates have chosen to work with CEMS Corporate Partners. In this interview series, we investigate how they have been doing
Today, we catch up with Mariella Giraldo who completed her CEMS MIM programme at Vienna University of Economics and Business (WU) and Tsinghua University Beijing, China. She participated to the Beiersdorf International Internship Challenge 2018 and is currently a Marketing Intern with Eucerin at Beiersdorf.
1. Why did you choose to work with Beiersdorf?
I have always been interested in the consumer goods industry especially because a great deal of analytical thinking is necessary in order to identify consumer's needs and effectively respond to them. Beiersdorf is a key player in this industry owning strong brands like NIVEA or Eucerin that stand for quality and lead the market in many categories worldwide. Beiersdorf attracted me because of the possibility to do the traineeship BEYOND BORDERS with a rotation abroad and their focused portfolio of highly emotional and trusted brands.
2. Can you tell us a bit more about your role at Beiersdorf?
I worked in brand management for Eucerin Face Care in the German market in Hamburg Headquarters. During the three months I worked for Eucerin, I helped bring a new product to the market, was involved in the design of a repackaging for the German market, analyzed the market using the in-house data tool, helped to steer an influencer campaign and monitored the competition by doing regular checks at the POS.
3. What is a typical day like at Beiersdorf?
As a coffee-addict my day started at the coffee machine at 9 am. Then I checked my e-mails to see whether I had any new priorities for the day. Then usually a meeting followed with my colleague where I updated her on the progress of my projects and discussed the status quo. At noon I usually went to lunch with the other interns and working students to the canteen and in the afternoon usually a bit of analysis work followed working with Beiersdorf's data tool. Since I steered an influencer campaign for a new product that was launched, I usually arranged a meeting closely to the end of the working day to gather feedback from the brand manager and digital marketing team and communicated that to the influencer agency. Usually I left the office between 17:30 and 19:00.
4. How did you get the job?
I participated in the Beiersdorf International Internship Challenge 2018. While I did not win the challenge and received one of the fully-funded international internships, many of us were called afterwards for internships – so was I. Usually internships can only last for at least 5 months but since my team leader participated in the challenge and saw my performance she decided to make an exception, something that would not have been possible without participating in the challenge.
5. How did you experience the International Internship Challenge?
It was an amazing event! It is far more than just an assessment center. The event started off with a boat trip at the Hamburg harbor where we had dinner and drinks while watching a breath-taking sunset. The next day we had keynote speeches from two board members and got the introduction to the Eucerin case study. The event was a great opportunity to network with employees from Beiersdorf and to get to know other high potential students from around the world - some of which became close friends.
6. How did the International Internship Challenge help you with the start of your role at Beiersdorf?
Participating in the IIC helped me in two important ways. First, through the case study we had to work on during the challenge I was already familiar with the brand and its current challenges. Second, when entering the company I already had a great network of people from around the globe that worked as interns in different departments (peers that were also hired from the challenge). Apart from the professional advantage that such a network brings with, I had people to hang out to on the weekends and after work which is great when you move to a new city without knowing many people there.
7. Can you tell us something that most people don't know about working at Beiersdorf or the organization itself?
One of Beiersdorf's company values is CARE and this value is really lived within the company. Every week we started with a team coffee on Monday mornings, talked about the weekend and stuff that is going on in our lives. This reveals so much context about your teammates and leads to mutual understanding e.g. you know if someone is having an exciting project on the side or is going through a hard time at the moment.
8. What has been the highlight of your job so far?
Two weeks into the job I had to conduct a thorough analysis of the German anti-age market, spotting the latest trends, needs and potential white spots in our portfolio. After the analysis we brainstormed some suggestions for new product innovations with my team that we then submitted to the global business unit. It was my personal highlight to be so close to the where the product innovation process starts and I learned a lot about the market dynamics and competitors.
9. What makes working at Beiersdorf unique?
All the support you get. In no other internship I have learned so much expertise-wise. Everyone would immediately stop writing an e-mail and answer to your questions in detail and with context. Also, as an intern I took advantage of the opportunity to understand what other people were working on around me. Beiersdorf has a real networking culture, where it is normal to ask people for a half-an-hour coffee to get an intro into their job and area. If you bring the right questions and a bit of curiosity to learn new things you can really learn a great deal at Beiersdorf!
10. How has your CEMS MIM degree helped in your role?
As an intern at Beiersdorf you are a full member of the team and it is expected from you to give input and expertise on the projects your team is working on – I really had to get used to that. At CEMS we have to present concepts, talk in front of people and do group works all the time. The communication skills I acquired in CEMS helped me a lot also when defending my point of view with my team at Beiersdorf.
11. What advice would you give to anyone considering to work with Beiersdorf?
My personal perception is that Beiersdorf is very selective with the people they hire – especially for their traineeship program BEYOND BORDERS. Go to the company website, study the values, talk to employees. Understand whether the culture is a good fit for you and reflect upon how your personal story led you to start your career at Beiersdorf. Think about situations in your professional or even personal life when you demonstrated each of the company values. Expect the interviewers to go below the surface.
Write your own story and join the Beiersdorf International Internship Challenge 2019.
Apply on beiersdorf.com/IIC until JUNE 28th 2019!