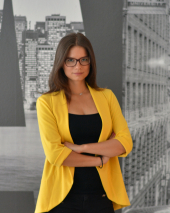 More info
The purpose of CEMS is to forge a global mindset within emerging business leaders. The result of these efforts is a graduate that is equipped with the knowledge, values, connections, and most importantly, the global mindset needed to lead — ensuring our constantly changing world changes for the better. 
In this series of interviews, we celebrate the incredible accomplishments and successes of CEMS alumni that are contributing to make this world a more open, sustainable and inclusive world. The CEMS Alumni of the Year is a joint campaign by the CAA in close collaboration with the CEMS Student Board, which gives the CEMS community the opportunity to learn about CEMS alumni and vote for your favorite candidate as the CEMS Alumni of the Year
In June, we met Andrea Hurychova, Founder of WeDigital Prague, a digital platform to help brand develop and execute content strategies.
1. How would you describe yourself in a tweet?
Girl in the digital world who loves what she does.
2. What are the three most important things that have personally shaped you?
My student life and friends I met there, traveling and studying abroad, experience I learnt at Google and then as an entrepreneur.
3. How did the CEMS network contribute to your professional achievements?
Thanks to CEMS I have met great people, gained international experience and started working at Google.
4. What advice would you give current CEMS students?
Travel, be hungry about projects you will be responsible for, follow your passions!
5. Being co-founder of a company, what are the most important qualities you must possess?
To be patient, engage in people management, do not take all things so personally it is just a job!