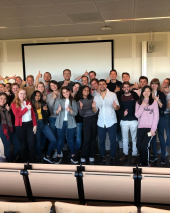 More info
In a global business landscape that's constantly changing, the most valuable skill a person can have is the ability to adapt. CEMS has spent over 30 years refining a unique curriculum with a focus on developing a global mindset that's delivered locally, in collaboration with the top academic institutions all around the world. Coursework is given real-world application through our close alliance with corporate and social partners — creating invaluable connections, collaborations and experiences. Many CEMS students and graduates have chosen to work with CEMS Corporate Partners. In this interview series, we investigate how they have been doing.
On October 10th, 2018, the current RSM students had the chance to attend a guest lecture by Ruben Schultz, who graduated from the CEMS MIM at Rotterdam School of Management, Netherlands and ESADE, Spain in 2015. Ruben came all the way from Palo Alto, California, to tell them more about his career at Facebook and debunk a few myths about the Californian tech firms. Following the lecture, Ruben and the students joined other alumni for networking drinks. This article sums up the key learning from Ruben's speech.
What do you do at Facebook?
I work at the Facebook HQ in Palo Alto in the Growth at Workplace by Facebook team. Workplace is basically a closed FB platform for a company and its employees. I used to work as an account manager in Dublin.
You don't have to be a techie to work in a tech firm?
I completed an internship at Google in Dublin while writing my master thesis and then started working at Facebook, first in Dublin then in Palo Alto, after my masters. I was never a techie and even though I am more tech-savvy today, I still do not consider myself a techie.
What do you like most about working at Facebook?
I enjoy the company culture the most. People move fast and are not scared to get their hands dirty. The culture is really open and based on transparency and the fact that failing is ok. For example, there is a weekly Q&A with Mark Zuckerberg, where every employee can ask him questions.
Secondly, I like the people and the more casual work atmosphere and dress code – this doesn't mean that we work less than at other companies of course. I also enjoy the perks of working at Facebook – such as free food all the time (amongst others).
Can you tell us something that people don't know about Facebook?
Facebook genuinely cares about its employees and wants to make them happy. As a result, the employees really care about Facebook as well. We are a strong community that holds together.
What are your key learnings from your time with Google and Facebook?

 
1. If you don't ask you don't get: If you want to get certain internships or advance in your career, you need to ask for it. Jobs won't come to you if you don't do anything about it.
2. Scale: When I started my first job at Facebook, I was in a team of 3 people, now that the company grows, my original team is composed of over 40 members.
3. Data almost always wins arguments: Back up your arguments with data. You can talk for hours, but what will really convince people are the numbers.
4. Get your hands dirty: Get involved and show initiative, don't just observe.
And we wish Ruben all the best on his adventure with Swoop!