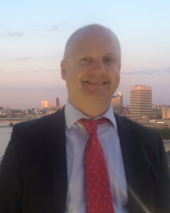 More info
The CEMS Alumni of the Year is a joint campaign by the CAA in close collaboration with the CEMS Student Board, which gives the CEMS community the opportunity to learn about CEMS alumni on a monthly basis and vote for your favorite candidate as the CEMS Alumni of the Year.
Meet Søren Kroon, who is the November candidate for the CEMS Alumni of the Year 2015 election. Søren graduated from CEMS in 1999 from Copenhagen Business School with his exchange at the Vienna University of Economics & Business. He is currently the Senior Vice President for Corporate Finance & Strategic Development at Pearson Plc in London, United Kingdom.
1. How would you describe yourself in a tweet?
A positive, extrovert, hard working, football loving, international Viking.
2. What are the three most important things that have personally shaped you?
I think having dual nationality (parents from 2 different countries & having lived in both) has enabled me from early on to "put oneself in other peoples shoes" and see others perspectives more easily.
Growing up I was taught from an early age to work to earn the money needed to buy things. I think this mindset of not borrowing or getting things "for free" has benefited me.
I took a year out before my Masters studies to travel and as a result of that experience I realized that I wanted to study and live abroad, which I have done ever since.
3. What career accomplishment are you most proud of?
Probably my most recent M&A project. This summer I was responsible for the divestment of the Financial Times, which my firm Pearson has been the owner of since 1957. This was a huge responsibility to ensure that the world's premier business media asset and its staff found an outstanding "new home" for the long term, its editorial integrity wasn't diminished and our shareholders got an excellent return.
As you can see, we had many important aims and after over a year of planning and careful execution we achieved all of the above with a sale to Nikkei for £844m (equal to 35 times FT's profits).
4. What is the most important lesson CEMS taught you?
I am hugely grateful to CEMS, its academic and corporate partners. My first job was with a CEMS partner, Reuters where I learnt a great deal. In addition to the excellent multi-cultural academic, business and life experiences that CEMS enables, the most important lesson was that anything is possible as long as you stay highly motivated and very focused on your goal.
5. What advice would you give current CEMS students?
A couple of pieces of advice: "Experiment" early on in your studies and in your career. It gets more difficult later on. Those "experiments" could be very valuable in figuring out what career path you DO NOT want to take.
To get a rounded experience and to make yourself more "valuable" one sometimes has to take career steps which are, or seem, less attractive in the medium term OR to say that in a different way: You have to follow your heart more than your head in the long run in order to be happy, but for that to work out, one sometimes needs to follow your head more than your heart.
The voting for the Alumni of the Year will take place beginning of November among the CEMS community and will take place in our social media communication channels, where the winner will be announced in the mid of November.