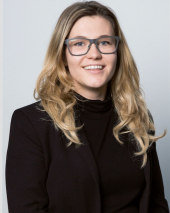 More info
In a global business landscape that's constantly changing, the most valuable skill a person can have is the ability to adapt. CEMS has spent over 30 years refining a unique curriculum with a focus on developing a global mindset that's delivered locally, in collaboration with the top academic institutions all around the world. Coursework is given real-world application through our close alliance with corporate and social partners — creating invaluable connections, collaborations and experiences. Many CEMS students and graduates have chosen to work with CEMS Corporate Partners. In this interview series, we investigate how they have been doing.
Today, we catch up with Anna-Marie Tunger who did her programme with Copenhagen Business School and Rotterdam School of Management, Erasmus University. She is participating in the Go with Maersk Graduate Programme as a Trade and Marketing Analyst.
1. Why did you choose to work with Maersk?
First, being fascinated by the pace of globalization and cultural diversity, it was clear to me that Maersk would be an excellent partner to provide unique insights into world economics and global trade. By joining Maersk as a graduate I could benefit from the company's experience in  bringing the world closer together. 
Secondly, I knew that Maersk and the Go with Maersk Graduate Programme supported my goal to pursue a global career that has real impact and is shaped by collaboration and diversity. I was also drawn to the programme because of it's travel and international networking opportunities. Through the programme, I have the possibility to go on an international assignment for two years. This was an essential factor in my decision making. Today, I am very happy to be part of a team represented by eleven nationalities and that makes a daily impact on world trade. 
2. Can you tell us a bit more about your role at Maersk? 
Currently I am a Trade and Marketing Analyst focusing on the Latin America, Asia and Europe trade areas. My team works on the long-term strategy for these regions by taking into consideration which customers we serve and how we gain long-term business. We also evaluate network and service decisions.
3. What is a typical day like at Maersk?
My day starts with a great breakfast and before I know it I am already involved in my daily routine. However, world trade is quite dynamic and interesting topics require immediate attention. I especially enjoy being in contact with the whole world on an almost everyday. Receiving a call from China in the morning and talking to colleagues from Hamburg followed by a conference call with colleagues from Latin America in the afternoon is part of just another normal day at Maersk. Furthermore, the company provides great opportunities to get involved in topics that interest you and initiative is always appreciated. 
4. How did you get the job?
The process basically contained three steps. An online application with an online assessment, followed by a personal interview with HR and an assessment day that composed of a presentation, a personal interview and group work exercise. 
5. Can you tell us something that most people don't know about working at Maersk or the organization itself?
I believe that although people are aware that we are an international company, many underestimate the diversity. People sometimes speak of Maersk as the 'little U.N', which in my opinion is very true. I am also impressed by the working environment and how well the company takes care of its employees. This includes employing fitness trainers, offering great food and the opportunity to join and engage in different clubs.
6. What has been the highlight of your job so far?
I really liked the business related travels which delivered not only amazing personal experiences but also very valuable insights into the decision making process of my team. Having participated in two Trade Strategy Meetings in Shanghai and Madrid as well as the first seminar in Singapore, I was able to see a lot of places in a very short period of time and I am curious what comes next.
7. What makes working at Maersk unique?
First is the international aspect of the organization - not just of our business, but also of the people. Secondly, the mindset and collective aim to drive globalization through the support from people in almost every country in the world.  
8. How has your CEMS MIM degree helped in your role?
I believe that my CEMS MIM degree played a significant role in the job preparation. It shaped my mindset and understanding of a global world which needs international collaboration more than ever before. In addition, it also prepared me to handle challenging situations, to tackle and utilize cultural differences and to focus on long-term strategies. This is very important considering the large impact my company has on  businesses, humans and the environment every day.  
9. The CEMS program is often considered to be a bridge between the academic and corporate world. Would you agree with this assertion?
Yes, I agree. After only half a year, I recognize how the variety of projects in very diverse groups during the CEMS MIM degree have prepared me for the environment I am working in today. Knowing that the CEMS program has provided me with the necessary business tools and the right mindset gives me the necessary confidence to contribute on a daily basis, to actively participate in meetings and to drive projects forward.