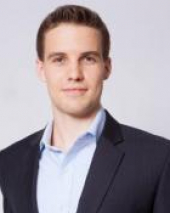 More info
The purpose of CEMS is to forge a global mindset within emerging business leaders. The result of these efforts is a graduate that is equipped with the knowledge, values, connections, and most importantly, the global mindset needed to lead — ensuring our constantly changing world changes for the better. 
In this series of interviews, we celebrate the incredible accomplishments and successes of CEMS alumni that are contributing to make this world a more open, sustainable and inclusive world. The CEMS Alumni of the Year is a joint campaign by the CAA in close collaboration with the CEMS Student Board, which gives the CEMS community the opportunity to learn about CEMS alumni and vote for your favorite candidate as the CEMS Alumni of the Year.
Tomas Laboutka has won the CEMS Alumnus of the Year for the Young Leadership Category. CEMS sat down with Tomas to learn more about this years' winner.
"It is incredibly humbling to receive this award, especially when you consider the caliber of all the candidates. It's an honor to be selected amongst peers who are not only high-achievers in their field, but also people who embody the values CEMS represents – not just in professional excellence."
1. On entrepreneurship
I love the freedom that's linked to building companies. Being an entrepreneur has enabled me to put my values into action. Ever since I was a kid, I have felt that people should be able to have a choice. To have opportunities to grow, enjoy what they do and serve the people who they care about.
Having an entrepreneurial spirit stems the strong desire to solve problems and to create products and services that really help consumers, as well as develop the people who work with me to make the whole magic happen.
I think MNCs have already started to become aware that facilitating entrepreneurship within their organizations is beneficial and can get them closer to the customers. Many have started supporting start-ups or entrepreneurs financially or with other resources, whether It's via forming venture builders, accelerators, adopting more lean and experimental team structures etc.. It takes a shift in mindset and top leadership to fully embrace the entrepreneurial culture, but being a bit closer to your customers is always for the better.
2. On the Birth of HotelQuickly
I certainly didn't see it clearly when we started. When I first arrived in South East Asia five years ago, I understood the friction in the hotel booking process and the scale of the opportunity. You could say that HotelQuickly's growth is a story of the pursuit of a vision and leaping at an opportunity in the market.
In my entrepreneurial journey, I see one element of success as the moment we solve a problem, climb over a hill, learn how to do something new or come to understand how things work. Success is the result of overcoming barriers. With HotelQuickly, the challenges have been countless, but the notable ones were in bringing the right people together to build the business, launching the product, securing funding and expanding the business globally. Working with different cultures can also spice up things, but CEMS prepared me well to work in diversity.
3. On A purpose-driven life lead by value-driven decision-making.
My values are freedom (to be true to myself), growth (to live to my full potential every day), fun (to enjoy what I do), to serve my family and friends (to help the people who I care about fulfilling their dreams) and gratitude (to appreciate everything around me).
These values are so deeply a part of who I am that I constantly align them to everything in my life – from decisions about who I spend my personal time with, to how the company is set up. It is about being the best version of myself that I can be, and CEMS' call for excellence in business and emphasis on us being a contributive member of society has fallen right in line with that since my early days in the Master's programme.
There are plenty of moments in business when a decision needs to be made which might deliver gain but is at the expense of, or contradicting your values. Such challenges can arise literarily everywhere – from taking funding from people you would not "grab a drink" otherwise (hint: we didn't take it), product development to managing talent (excellent top performers, with low integrity). The danger is not being able to see the forest for the trees. When I've been confronted with such a situations, I stepped back, compared the variable to my values and followed through with the adequate decision.
A great thing about being a part of CEMS is the exposure to diverse cultures and ways of thinking. This cultivation of openness is incredibly beneficial for anyone leading in today's global environment. I do think there's still an opportunity to develop initiatives around sustainability and inclusiveness, and I am looking forward to seeing how we can further incorporate these values into the businesses we run.
4. On Reconnecting with CEMS
2018 is going to be a year of change for me. For half a decade, I have focused on HotelQuickly, grown the business from 0 to 100 employees, extended our reach beyond 15 countries in South East Asia, secured millions in funding, developed the leadership team and acquired new investors. Now the company is at a stage where I can take a step back from the day to day operations and advise in my new role as Board Advisor.
I feel that my time in Asia has given me the skills and the network to be able to bridge Asia with the entrepreneurs throughout the world, and I am really looking forward to having the time to expand my horizons and explore new ventures in this area. 
There's a continuous need to build awareness around the importance of having purpose and values. They are the doorways to understanding how to be more responsible as a leader, how to build stronger teams, and how to develop your own career in a sustainable way. I believe that not just every entrepreneur, but every professional need to start their careers with a firm grasp of these two topics.
5. To the Graduation Class of 2017
Be successful on your own terms. Don't chase quick wins, bow to external pressures or live your life according to other people's expectations. Take the time to understand who you uniquely are, what the world needs and how you fit into the picture. This is what really matters. It takes courage and tenacity to know yourself and find your place in the world, but doing this will make you a better leader and a better person.
Global Alumni Week
To hear more from Tomas, tune in during the CEMS Global Alumni Week 2018 Webinar that will be broadcasted on Monday 16th April 2018.
The Global Alumni Week (GAW) is a globally organized week of activities that involve all CEMS stakeholders, Alumni, Students, Member Schools, Corporate and Social Partners, with a special focus on engaging alumni with the CEMS community. The objective of the GAW is to encourage professional network building, strengthen the interaction among students and alumni, and enhance the engagement and visibility of CEMS alumni. The third edition of Global Alumni Week will take place in the week of 16-22 April! Last year 53+ events took place in 27 CEMS schools and it is expected to be an even more engaging week in 2018.