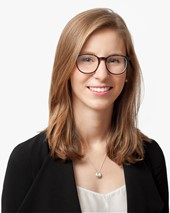 More info
The CEMS Global Alliance is a purpose led organization, powered by our beliefs that great leadership starts with self-leadership and societal progress requires continual exploration. In this series of interviews, we take a look at CEMS students and alumni that are contributing to make this world a more open, sustainable and inclusive world.
Humans of CEMS: 

We aim to make a mark on this planet through technology
Today, in our Humans of CEMS series, we are happy to introduce you to Julia Eschelbeck, Product Development at Google. In this interview, she explains how growing up in the Silicon Valley and then studying in Europe led her to her current position at Google Cloud AI. And of course, she also reflects on how the CEMS community has helped her along the way.
1. Please tell us something about your current position at Google Cloud AI.
I am a firm believer that life is about the people. And, whenever someone asks me why I love what I do, I pause and realize that it always comes back to the people. I have the privilege of getting to spend every day working on some of our generation's hardest problems with some of the smartest, most hardworking, most interesting individuals. Every person on our team contributes in their own amazing way and is united by the fact that we are all willing to jump in, head first, start building and aim to make a mark on this planet through the application of technology.
2. 

As a native Austrian, you grew up in the Silicon Valley and then returned to Europe for your studies at WU and LSE. What steps can Europe take to become more innovation-friendly?
As someone who has grown up in both worlds, in my opinion, the difference between Europe and Silicon Valley when it comes to innovation is in the culture. I love the openness of Silicon Valley - you can try everything and people will inspire you to pursue your ideas, even if there are risks involved. Europe is different, a bit more reserved. There tends to be more of a focus on why something will fail and a need to pursue a "sure thing". As with all things, there are benefits and drawbacks to both perspectives.
That being said, I believe that we are at an interesting inflection point, as sustainability and the circular economy become more critical to ensuring that the world continues to be an inhabitable place for our children and grandchildren. As we drive toward these more intangible, non-capitalistic goals, I believe that European countries can be pioneers in leveraging technology created globally to benefit our planet and society.
3. 

Can you tell us about one character trait of yours that was most important for your career?
When I was a teenager, I had a favorite t-shirt with three identical monkeys lined up in a row. The final monkey in line was upside down wearing a colorful bow with this statement: "Dare to be different." And while I didn't realize it back then, those four words would come to inspire many of my decisions. I have often taken the road less traveled, whether it was the choice to study in Europe or to work at Cisco, while common practice in my peer group would have led me on a different path. But I've learned that it's worth doing the things that scare but excite you, that might be considered risky because we can only grow outside of our comfort zone.
4. 

How did CEMS prepare you for the challenges you are facing at Google? Do you have a favourite CEMS memory?
The CEMS MIM program provided a foundational catalyst on my journey in using technology to build bridges across companies, cultures and continents. The experiences that I gathered working with students from across the world, were the best preparation for a global role at a multinational company like Google. Whether it was a product rollout in the US, Germany or Singapore, the foundation of building on cultural diversity with respect and empathy instilled by CEMS gave a keen ability to connect with our stakeholders and customers across the globe.
What is more, Google has given me the opportunity to stay engaged with the CEMS MIM community - there are events for alumni, students and partners around the world and the network has been an invaluable resource to rely on when visiting a new city or looking for a bit of career advice!
Looking back, what truly stands out to me was how incredibly helpful and supportive the entire CEMS community was. As a CEMS student, I was juggling a lot of balls - working and managing a team at Cisco, aiming to complete my CEMS degree in one year while not sacrificing the social activities that are critical to the CEMS experience. For me, it was an exercise in extreme time management but I know that it would not have been possible without the incredible staff, lecturers and friends that helped me along the way. They worked with me to find creative solutions that enabled me to juggle work, school and friendships.
5. 

What advice can you give students that want to work in the tech industry? Which skills should they try to learn apart from management?
Even though I grew up in Silicon Valley, I always said that I would never end up working in technology. When I was younger, I loved graphic design, physics and history, and I was sure I would become an architect. For me it took leaving California, studying and working in Europe and Asia to recognize that I had a passion for technology. It gives me the opportunity to combine the key elements that I love from design, physics and history - creativity, problem solving and a necessity to understand the past to create the future. So, rather than plot out your path, let curiosity and a love for learning be your guide. Take classes, join virtual meetups, take the opportunity to reach out to people when you travel - there are so many resources out there it's up to you to take advantage of them. Your CEMS degree is a fantastic starting point, because it gives you an innate understanding of the customer, but having a passion for using and understanding technology to solve problems creatively is essential to any role in the tech industry.