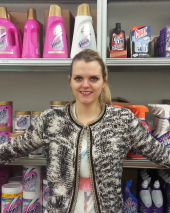 More info
In a global business landscape that's constantly changing, the most valuable skill a person can have is the ability to adapt. CEMS has spent over 30 years refining a unique curriculum with a focus on developing a global mindset that's delivered locally, in collaboration with the top academic institutions all around the world. Coursework is given real-world application through our close alliance with corporate and social partners — creating invaluable connections, collaborations and experiences. Many CEMS students and graduates have chosen to work with CEMS Corporate Partners. In this interview series, we investigate how they have been doing.
 
Tenth in this series is Bernadette Ritscherle, from the Università Bocconi!
1. What is your CEMS background? 
I graduated from CEMS in 2011. My home university was Università Bocconi and I spent my semester abroad at NUS in Singapore. 
2. Where do you work?
I work at rb in Germany.
3. What do you do at rb?
I joined rb as a graduate and moved through different roles in both Germany and the UK. After my return to Germany, I focused on the healthcare side of our portfolio and am now working as a Brand Manager on Strepsils.
4. How did you get the job?
Some of my CEMS friends had worked with rb on their Durex business project. They had told me very enthusiastic stories about the company and the way it operates. This triggered my interest and I applied to the graduate program when I was about to finish my degree.
5. What is the best part about your job?
I am currently working on strategic communication projects across Europe and North America. I love the amount of ownership and responsibility I have and feel that I can make a real difference with my work. Our company culture is remarkably un-hierarchical. Even at a young age you are highly involved in decision-making processes and get visibility in front of higher management levels.