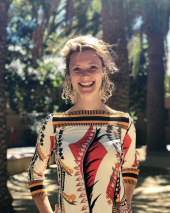 More info
The CEMS Global Alliance is a purpose led organization, powered by our beliefs that great leadership starts with self-leadership and societal progress requires continual exploration. In this series of interviews, we take a look at CEMS students and alumni that are contributing to make this world a more open, sustainable and inclusive world.
Humans of CEMS: Follow the unobvious
As a CEMS, Stanford and Harvard graduate, Marta Milkowska has followed an unusual social-entrepreneurial path. Her experience includes setting up an NGO to build a school for 600 kids in Africa, working with social entrepreneurs in Africa and Asia with the United Nations and the World Bank, and launching health-tech products in the heart of Silicon Valley. She continues her mission to leverage technology for social impact in her current role – as a Digital Health Consultant at BCG in the United States.
How has the CEMS MIM Program influenced your life? 
Growing up with an entrepreneur (my dad) and an avid volunteer and community builder (my mum), I always wanted to use entrepreneurship and business tools for social good. CEMS MIM was the first space that encouraged me in pursuing this dream. That may sound obvious today, with social entrepreneurship being incorporated in major business schools. But it was not the case when I started school in 2004. The scope of possibilities after graduation from business-related majors was limited to corporate and finance positions. At best, we would talk about CSR – and that was the "fringe" topic. CEMS lecturers and mentors supported me in creating my own path, to look above and beyond to get out of the "beaten track". It started even before I joined the program – the CEMS recruiting board at SGH recognized my experience in launching and leading an NGO in rural Kenya as a managerial experience. But back in the days it was groundbreaking. 
I knew I was given consent to pursue my dreams. To follow the unobvious. Later in the program, beyond the business and leadership principles, I learned how to work with and manage incredibly diverse, cross-cultural teams - that became the foundation of my work with African, Asian and American partners at the UN, World Bank and start-ups. 
Your CV is full of these versatile international experiences you just mentioned. Could you tell us more about your journey and about some challenges working with different cultures? 
I started my international adventure leading an NGO in rural Kenya. That was followed by 5 years at the World Bank, working between governments and local social entrepreneurs across 14 countries in Africa and Asia, and a few more in the US. Navigating those cultural and socio-economic differences was one of the most enriching experiences I've had. And yes, there were also challenges and adjustments needed.
For example, in Kenya I worked with a Maasai tribe, in which women had limited rights (e.g. property rights belonged only to men, so were the decisions made at home and in a community). I quickly observed that local women wouldn't even look into the eyes of men while having a conversation – a sign of respect and allegiance. And here I was, a 23-year-old, outspoken girl from another country, managing a local team of 60 construction workers, handling budget (and payroll) decisions, sometimes disagreeing with my local partner – tribal chief "whose decisions were known to be final ''. It wasn't easy. I had to quickly understand the underlying values of local culture and existing business practices to adjust the way we work. For example, understanding the value of age ("white hair" to be exact) and men's leadership placed in the Maasai culture, I ensured to always bring one of the male, more senior (grayed-haired) colleagues to key project discussions with the Maasai chief. Starting with listening, flexibility in the way we work, and paying respect to what's important to our partners, were the most important principles in translating the business context and those - sometimes conflicting – norms, across cultures. I still use them, today - in corporate America.  
Can you tell us more about building a school in Kenya – how did it start and what have you learned from that experience?
At 22, while a business student, I traveled to Kenya, where I met Salaton – a Maasai chief and a social entrepreneur. He dreamed of opening a school for 600 low-income tribal families. Inspired, I spent the following year fundraising and building partnerships with the Polish government, international NGOs and corporations. Finally, in 2008, with $150 thousand in funding and 20 volunteers; we were ready to start! 
Living in Salaton's village in Kenya wasn't easy: non-existent basic infrastructure, delays in contractors' work and corrupt local authorities. For 9 months we lived in huts without electricity or running water, facing malaria outbreaks, termites invasions and nightly hyena "visits".  I had to negotiate with a tribal board, whose members traditionally disregarded women as partners. 
But within 9 months, we constructed a school for 600 children and scaled an eco-tourism company, which was later featured in the New York Times. Last time I checked, the school was second-best in Southern Kenya.
What did I learn? So much. To start, I'm immensely grateful to have learned so much about Maasai culture. We were truly welcomed by the local community – I even got a Maasai name. On a project level, I learned how to translate business context between Masai and Polish realities. For example, I needed to convince the tribal board to side with a construction contractor from another tribe. That's an absolute cultural taboo, but we needed him to ensure security measures necessary in high-risk earthquake areas. Navigating those sensitivities was fascinating.
I also realized that entrepreneurship and technology were potentially the most effective tool to allow poor populations to escape poverty and to gain independence. We were in Kenya in 2008 – I observed first hand the tremendous impact of mobile banking in Africa. I also saw local widows start a solar-enabled mobile charging business. It was a very exciting time to experience Kenya and it shaped my career ever since – I dedicated myself to leveraging technology for social impact.
How did this dream of yours evolve? What issues do you care most about now? 
I stayed true to that calling of tech4Good for the past 14 years. Over the last 6 years, I narrowed it down and focused mostly on healthcare innovations. I launched various digital health products and led several start-ups – from the heart of Silicon Valley to NYC, Cape Town and Lesotho. And I am still blown away by how much we can change with technology. 
I worked with start-ups that use AI to diagnose kids with autism at the time when their brain's neuroplasticity allows for early intervention, or help radiologists diagnose breast cancer, or allow people with diabetes to get off insulin within a year. The scope of possibilities seems endless. And I find it super exciting.  
What advice would you give to CEMSies at the beginning of their careers? 
Most importantly, don't be afraid of creating your own path. Before last year, I never had a job that had an application process. The "once-in-a-lifetime" jobs likely will be created specifically for you – ask for them. If you have a passion that is out of the traditional path, follow it, do the unobvious! Change the world!
Second – don't give up. When I came to the US, I sent  110 cold call emails to experts at the World Bank asking for "career advice". I met 50 of them. 45th became my boss. Yes, he created the job for me. My mentor once told me. "Every YES comes with many NOs", meaning a path to unique opportunity often comes with many rejections. But even though being declined hurts, nobody sees the NOs on your CV. People only see what progress you have made. Whenever you hear NO, just remember it's a small step towards getting a YES. And every YES can be life-changing.