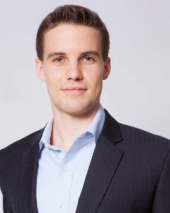 More info
The CEMS Alumni of the Year is a joint campaign by the CAA in close collaboration with the CEMS Student Board, which gives the CEMS community the opportunity to learn about CEMS alumni on a monthly basis and vote for the favorite candidate as the CEMS Alumni of the Year.
Meet Tomas, the April candidate for the CEMS Alumni of the Year 2017 election.
"My passion has always been in trying to uncover the blueprint for building successful companies and discovering and developing talents. This drive enabled me to connect with CEMS Entrepreneurs, students and alumni around the world. It has resulted in 4 startups over the past 9 years in Europe and Asia." Tomas Laboutka, on summarizing his career path.
Tomas graduated from the University of Economics, Prague from CEMS in 2010 with his exchange at Rotterdam School of Management, Erasmus University.
Currently he is running his own business as a CEO & Co-founder of HotelQuickly, which is a leading last-minute hotel booking app in Asia-Pacific. It offers travelers discounted deals at three to five star hotels in more than 250 destinations. HotelQuickly has partnered with more than 10,000 hotels to bring customers rates which are on average 28 percent cheaper than best prices online. 
He is a perfect type of role model to many current CEMS Students, who would like to launch their own business and make their idea come true in the future.
1. How would you describe yourself in a tweet? 
CEO & Co-Founder of HotelQuickly. Serial entrepreneur passionate about building great teams. An advocate of personal growth and mindful living
2. What are the three most important things that have personally shaped you?
You can find comfort in discomfort if you approach the unknown with curiosity and enthusiasm. Embrace diversity.
Grit and tenacity will help you weather all the seasons of life.
A purpose-driven life can be achieved through the clarity that comes with value-driven decision-making.
3. How did the CEMS network contribute to your professional achievements?  
We are a network of ambitious high-achievers. CEMS opened doors to successful business partnerships and life-long friendships. I founded two companies with my classmates, and through seminars with CEMS Entrepreneurs (which I co-founded), I was exposed to different cultures and perspectives.
4. What advice would you give to current CEMS students? 
Don't be daunted by the big questions in life. Take action that is in line with your beliefs and values. Reflect often, and fine-tune your inner compass. Then repeat the process all over again. How successful you are in life will ultimately be the result of how well you master this process.
The voting for the Alumni of the Year 2017 will take place end of October among the CEMS community and will take place in our social media communication channels, where the winner will be announced in the begin of November.