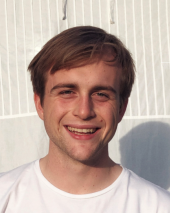 More info
The CEMS Global Alliance is a purpose led organization, powered by our beliefs that great leadership starts with self-leadership and societal progress requires continual exploration. In this series of interviews, we take a look at CEMS students and alumni that are contributing to make this world a more open, sustainable and inclusive world.
Humans of CEMS: Starting a company in the middle of a crisis
Today we want to introduce Jo, current student at Nova School of Business and Economics, who has founded the company Zeam in February of this year in Switzerland, while holding the position of CEMS Club President at Nova SBE. Jo, who previously held the position of Head of Marketing and Communications at the CEMS Club Lisbon, is applying his accumulated knowledge and deep understanding of his generation: The Generation Z.
1. What is Zeam about?
ZEAM is a hybrid of management consultancy and creative agency that connects companies with Generation Z. We help our clients to identify and exploit the potential of young consumers and young employees.
2. How did you come up with it and why is it important for the companies?
We realized that there is a gap between the companies and Generation Z. Most of the products aimed at 14 to 25 year olds were designed in teams where everyone is over 30. At the same time, young employees are often not taken seriously because they "lack experience". We help companies tap into the potential of diversity and engage their young stakeholders in an authentic and powerful way.
3. How was it starting a company in the middle of a crisis?
We entered the market with more of an idea than with a real product offering. The crisis gave us the opportunity to sharpen our core value and focus our activities. There was a short period when our sales funnel became narrower, but we used the time to strengthen our online presence on LinkedIn or by building a Tiktok channel with over 200'000 followers.
4. Do you have any tips for students who want to become founders themselves?
There is one thing that young people understand much better than older people: social media. Our very first step was to build an audience on LinkedIn by writing about our business idea. Not only did the response convince us to pursue our idea, but most of our projects came through this channel. We did not need to spend any money on advertising or spent time cold calling leads, but we are fortunate to work with some of the most exciting companies in Switzerland. So, use your advantage and build an audience on LinkedIn!
5. How do you manage the balance between studying and working for your company?
I love to learn new things, just as I love to build new things. Starting a company while I study gives me the opportunity to do both. Besides time management, the most important thing for me is to leave room for creativity. This means that I try not to occupy my head with little worries and to-dos.