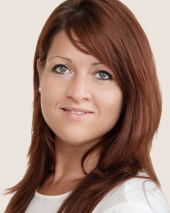 More info
The CEMS Alumni of the Year is a joint campaign by the CAA in close collaboration with the CEMS Student Board, which gives the CEMS community the opportunity to learn about CEMS alumni on a monthly basis and vote for the favourite candidate as the CEMS Alumni of the Year.
Meet Anita, the July candidate for the CEMS Alumni of the Year 2017 election.
Anita graduated from Corvinus University of Budapest in 2010 with her exchange at ESADE Business School. After 6 years of corporate career, she decided to continue as a Freelance Business Consultant and coach business leaders to the right direction with her corporate background.
Anita is an incredibly engaged Alumni, who would like to give something back to the CEMS community by mentoring more students each year. She is helping them to find their most suitable personal and professional path.
1. How would you describe yourself in a tweet? 
As a consultant, I have a passion for new ideas and creative thinking. I am inspired by the challenges I face and the people I work with.
2. What are the three most important things that have personally shaped you?
People, successes and failures.
Some of the people I worked with had a tremendous impact on who I and where I am in life right now. Besides, I have learned a lot from my successes and failures in my personal and professional life.
3. How did the CEMS network contribute to your professional achievements?  
CEMS provided me with a unique opportunity to broaden my horizons and prove myself in international assignments.
4. What advice would you give to current CEMS students? 
Don't fear change. 
Exploring, experimenting and taking risks help you advance in the quest for fulfilling your dreams. 
Make sure you always surround yourself with great people who inspire and support you and whom you can inspire and support in return.