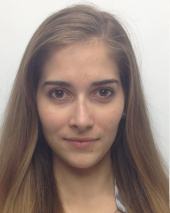 More info
In a global business landscape that's constantly changing, the most valuable skill a person can have is the ability to adapt. CEMS has spent over 30 years refining a unique curriculum with a focus on developing a global mindset that's delivered locally, in collaboration with the top academic institutions all around the world. Coursework is given real-world application through our close alliance with corporate and social partners — creating invaluable connections, collaborations and experiences. Many CEMS students and graduates have chosen to work with CEMS Corporate Partners. In this interview series, we investigate how they have been doing
Today, we catch up with Szidonia Zentai who completed her CEMS MIM programme with Corvinus Business School and Keio University. She is currently working as a Financial Analyst at P&G.
1. Why did you choose to work with P&G?
In my first CEMS year, I had a mentor from P&G, who had a similar background as me and who fully convinced me to apply for an internship. I wanted to work in a multinational company, in an international environment and as previously I had some experience with the financial sector. I wanted to try a completely different industry before finishing my studies. So I applied during the Career Forum, where my preference was to go to the UK (I was afraid that the lack of German/French knowledge will be a disadvantage in the HQ – I was wrong).
After the Skype interviews, I was lucky enough that the HR offered me a spot in the P&G European Headquarters in Geneva, so at the end of last summer, I ended up here in Switzerland as a financial analyst intern. My internship was a great experience during which I decided to come back if I had the opportunity.
2.     Can you tell us a bit more about your role at P&G?
I am currently working as a Financial Analyst in the Brand Operation/Central Marketing team in the European Headquarters in Geneva. This means that I am working across brands and business units for Europe, so I can oversee and analyze the full European marketing budget.
In this way, I am in touch with the countries',  the regional units' marketing teams and financial analysts and reporting not only for the European corporate team but also for the global HQ. In addition, I am managing the budgets of the multi-brand programs (such as our Olympics campaign) in Europe. Before I started I have never imagined that my scope can be so wide, but it is extremely exciting.
3.     What is a typical day like at P&G? How did you get the job?
Meetings, meetings, and more meetings. In the beginning, I had the impression that everyone is in meetings all the time and I even started to wonder when they find time to do the actual work. After a while you will realize that these contacts are crucial to progress with your projects, as people moving around in every 2-3 years, everyone has a different field of expertise and perspective. When you start your project with gathering information from all possible sources you will always find someone who already faced similar problems and who can provide learnings and insights.   
4.     Can you tell us something that most people don't know about working at P&G or the organization itself?
a.     There are more than 100.000 employees working for P&G, more than 1500 in the European HQ, but you still feel unique and valued and never feel left alone. In the first days, you will attend the "Welcome Days", where you will get to know your peers and which will ensure that you will be on track with the operational obligations. In addition, if you would like you can have a buddy within you team/field who you can contact anytime if you have any kind of questions or doubts. You will definitely have someone who you can contact anytime!
b.     P&G follows the "build from within" concept, so you don't need to change companies to get experiences in different fields of expertise and constantly grow professionally. Even if after a couple of years of working, you find out that your passion is not Finance, but it is rather working with people in the HR department, you have the flexibility to indicate your preferences and change accordingly.  
5.     What has been the highlight of your job so far?
In my second month, I led the negotiations with Global Headquarters about our European marketing saving targets for the next Fiscal Year. It was amazing to be face to face with professionals who have been working with the company for decades on a decision which impacts the full region!  
6.     What makes working at P&G unique?
a.     You can truly work with a global team: we regularly share our best practices with or asking help in our challenges from our counterparties in LA, NA, APAC, IMEA – although managing the different time-zones can be tricky… but talking to your friends who went on exchange to Hong Kong or Sydney is the same, isn't it?
b.     You will have full responsibilities and lead valuable projects from the first day: even as an intern, you will focus on solving a relevant business challenge or analyzing an opportunity which will make a difference in our business!
c.      You will constantly learn and grow professionally: endless trainings are available to expand your knowledge, but always learning by taking part in challenging projects and assignments is the most crucial element of your career development. Every 2-3 year you can rotate within your function, so you will always develop and extend your skillset.
7.     How has your CEMS MIM degree helped in your role?
During our CEMS years, we learn to adapt to changes and challenges. As a CEMS student, we always force ourselves to understand, analyze and solve problems that we never faced before, which I find the most valuable asset since I stepped out from my studies. In addition, my international background definitely helped for settling down and find my home in Switzerland.
8.     What advice would you give to anyone considering to work with P&G?
Apply for an internship as soon as possible. Most of my new hire colleagues already had a successful internship with the company. An internship is the best way to try out whether the P&G working style fits your personality, you can take a look behind the scenes without committing yourself for a longer time. During the internship, you will lead relevant projects on your own, so it will definitely be a step ahead in your professional development.
9.     The CEMS program is often considered to be a bridge between the academic and corporate world. Would you agree with this assertion?
Definitely! I met with the representatives of P&G during my CEMS Club's events – Rotation Dinners, Summer Camps – and my CEMS community helped me to find a mentor from P&G who fully convinced me that this is the right place to start my career. Without these interactions, I am not sure that I would be at the same place as I am now.