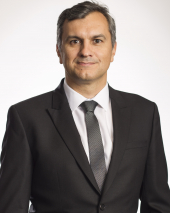 More info
In a global business landscape that's constantly changing, the most valuable skill a person can have is the ability to adapt. CEMS has spent over 30 years refining a unique curriculum with a focus on developing a global mindset that's delivered locally, in collaboration with the top academic institutions all around the world. Coursework is given real-world application through our close alliance with corporate and social partners — creating invaluable connections, collaborations and experiences. Many CEMS students and graduates have chosen to work with CEMS Corporate Partners. In this interview series, we investigate how they have been doing.
Corporate Insights: Damien Vernet with LVMH
Today we meet Damien Vernet of LVMH. In a global business landscape that's constantly changing, the most valuable skill a person can have is the ability to adapt. CEMS coursework is given real-world application through our close alliance with corporate and social partners — creating invaluable connections, collaborations and experiences.
Damien Vernet  was part of the first few cohorts of CEMS graduates. This early experience of international exposure and immersion – uncommon in management education at the time – helped to lay the foundations of a career at the highest echelons of global business.
Ask Damien Vernet what the secret to his long and distinguished career is and he'll tell you in one word: curiosity. 
President of Fashion Group Asia with LVMH, the French conglomerate that owns prestigious brands such as Louis Vuitton and Tiffany, Vernet has lived and worked all over the world, leading multinational teams and operations for the likes of Parfums Dior, Louis Vuitton, Celine or Givenchy, in locations as diverse as Singapore, Miami and Dubai. 
He puts his success down to maintaining a certain inquisitiveness about the world; that, and an openness to learning that has accompanied him throughout his life. 
"From a young age, I understood that you can never have all the answers. And that in our world which is constantly changing, nothing is ever predictable. You have to be open to learning, and to learning from as many different sources as possible."
It is this understanding that brought him to participate in exchange programmes in the early 1990s as student at HEC Paris; an understanding that was further consolidated during two exchange semesters – one at Columbia Business School and the other, through CEMS, at the Università Bocconi in Milan in 1993. 
CEMS was in its infancy at the time. 
"Mine was one of the first cohorts to go through the CEMS programme and everything still felt hugely pioneering. For those of us studying business administration and management, the idea of doing an exchange programme or an international internship was relatively novel. Till then it had not systematically been part of the conventional management education DNA. I was very drawn to the idea of challenging myself to do something new and completely different."
Bocconi in particular represented an exciting opportunity, says Vernet; a challenge to explore management through a new lens, while simultaneously navigating the vagaries of a different culture and language. Though HEC and his own background had given him something of a head start, he adds.
"HEC has always been a very international school, and I'd already spent some time in Italy and in Milan, where I had lived a few years as a kid - so I already spoke Italian."
Even so, the experience of setting up independently as a 20 year old in a foreign city, without the resources of the internet or mobile technology to keep him connected to home was a life lesson. And one, he says, that has endured a lifetime.
"The CEMS experience gave me a kind of emancipation I think. When you land somewhere new in your early 20s and you have to figure it all out for yourself – your studies, your campus life, all the practicalities of living and thriving in a foreign city – it teaches you to be autonomous at a really critical stage in your life. You're bitten by the travel bug. And you start to really develop tools and resilience, as well as that curiosity that never really leaves you."
Vernet is clear that CEMS changed him. The experience prepared him for a lifestyle that he describes as "normal and a must" in international business. 
"I am French but I have spent most of my life outside of France, following the trajectory that my career has taken me – to different markets, different cultures and geographies. CEMS prepared me for that, physically, socially and psychologically."
And his connection with the CEMS community and network has accompanied him throughout his career. 
"It's like a calling card I think. When you meet someone or you know that someone has been through CEMS, it's an immediate affirmation – a testimony to their qualities, their values and their curiosity. You know that you will have something in common, something shared, and common ground." 
Vernet is, by his own admission, "sometimes remiss" in terms of maintaining regular contact with his old network. However he has consistently made time to mentor CEMS students – particularly in Hong Kong where he currently lives with his wife and children. 
Despite the current restrictions imposed by the Covid-19 pandemic, contemporary cohorts are fortunate to be pursuing their education at a time where the world is more fluid, more open and increasingly more accessible than it was 30 years ago. 
"I think that students and graduates today are lucky that exchanges and international exposure are so much more the norm in education and working life. There are exciting opportunities out there even now and increasingly as we emerge beyond this pandemic to explore the world and broaden your understanding – to discover and immerse yourself in different countries and cultures."
It is critically important, he stresses, to take the fullest advantage of every opportunity that presents itself to continue to learn; to experience the new, the different and the challenging. And to stay curious.
"The education I have chosen, the CEMS programme, the continuous learning have enriched my life and given me so much of value and of benefit to experience. I've been very fortunate to have received encouragement from my family, from my peers and from my professors over the years. And I've been lucky to have made great choices for my life – choices always driven by curiosity."