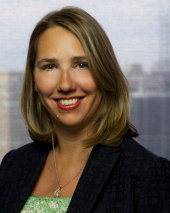 More info
The CEMS Alumni of the Year is a joint campaign by the CAA in close collaboration with the CEMS Student Board, which gives the CEMS community the opportunity to learn about CEMS alumni on a monthly basis and vote for your favorite candidate as the CEMS Alumni of the Year.
Meet Karine Dussert, who is the October candidate for the CEMS Alumni of the Year 2015 election. Karine graduated from CEMS in 1997 from HEC Paris with her exchange at the University of St.Gallen. She is currently working as Global Executive Director for Telstra in Sydney, Australia.
1. How would you describe yourself in a tweet?
Smart, witty, energetic, passionate, courageous, innovative, aspiring and achievement-oriented, honest person with strong work ethic.
2. What are the three most important things that have personally shaped you?
I have worked in demanding multinational environments (consulting, internet fund, large Telco in France and Australia) in different tough roles including P&L management and chief of staff to the CEO in a new country for me).
I have had to demonstrate remarkable resilience and fortitude with organizational changes.
I have had heroes giving me opportunities all the way through my career.
3. What career accomplishment are you most proud of?
I was leading the mobile consumer activity for Orange where I did a revamp of the value proposition and portfolio while negotiating for the iPhone exclusivity with the number 2 of Apple.
That was a thought leadership piece and an execution challenge, leading a direct and virtual team of several hundreds. Result was a market share turnaround of 5 points, leading Orange back to leadership.
4. What advice would you give current CEMS students?
Take ownership of your career, no one will do it for you and take enough time to reflect on what you truly want. Be bold, courageous and authentic in your choices. Don't believe in work/life balance; you have to love your work as part of your life. Always remember that leadership is about doing the right things and management about doing things right. Don't be afraid to ask for advice.
The voting for the Alumni of the Year will take place end of October 2015 among the CEMS community and will take place in our social media communication channels, where the winner will be announced in the beginning of November.