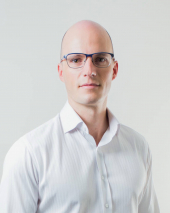 More info
The CEMS Alumni of the Year is a joint campaign by the CAA in close collaboration with the CEMS Student Board, which gives the CEMS community the opportunity to learn about CEMS alumni on a monthly basis and vote for your favorite candidate as the CEMS Alumni of the Year.
Meet Christian Mischler, who is the August candidate for the CEMS Alumni of the Year 2015 election. Christian graduated from CEMS in 2010 from the University of St. Gallen with his exchange at Rotterdam School of Management. He is the Co-Founder, Chairman & CMO at HotelQuickly, Sydney / Bangkok / Hong Kong.
1. How would you describe yourself in a tweet?
Driven by creativity, determined to change the world through entrepreneurship. Digital nomad, world citizen. Successful serial entrepreneur.
2. What are the three most important things that have personally shaped you?
I've started my first company when I was in high school. I've learnt numerous important lessons at young age.
I've joined Credit Suisse after graduating from CEMS and HSG. I realized that banking is not my passion.
I moved to Asia to start companies, which was the beginning of a new life, building upon all what I've previously learned in life.
3. What career accomplishment are you most proud of?
So far, I've co-founded three companies that are still leading in their industry and geography: First, I've co-founded the by now leading educational publishing house in Switzerland.
Then, I've co-founded the by now globally largest online food delivery company. Lastly, I've co-founded the leading last-minute hotel-booking app in Asia Pacific.
4. What advice would you give current CEMS students?
Find what you're passionate about. Trust in your skills, your education, and your network. Follow your dreams, but don't chase the money. Work hard, show perseverance, and have fun on your way to success.
Alumni of the Year Campaign: The voting for the Alumni of the Year will take place from mid until end of October 2015 among the CEMS community and will take place in our social media communication channels, where the winner will be announced in the beginning of November.