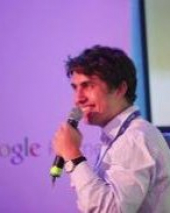 More info
The CEMS Alumni of the Year is a joint campaign by the CAA in close collaboration with the CEMS Student Board, which gives the CEMS community the opportunity to learn about CEMS alumni on a monthly basis and vote for the favorite candidate as the CEMS Alumni of the Year.
Meet Petr Smid, the August candidate for the CEMS Alumni of the Year 2017 election.
Petr graduated from University of Economics, Prague in 2005 with his exchange at University of Cologne. After more than 5 years of consulting career at McKinsey & Co., he became the Head of SMB Marketing for Czech and Slovakian market at Google.
Petr has exactly the same career path that many CEMS students are dreaming about. Currently as a head of Consumer Marketing for Central and Eastern Europe he is plays an active role in the CEMS society and hosts workshops with Google at CEMS events such as at the V4 conference last year in Prague. 
1.    How would you describe yourself in a tweet? 
Curious Czech guy who loves life and always has too many ideas and plans for future and too little time to realize them in the present.
2.    What are the three most important things that have personally shaped you?
Personally, it was sports at young age (athletics, ice hockey), studying (from elementary school to MBA) and lately - having family. Work-wise, an important moment was the fall of communism and "iron curtain" when I was 7 - there would be no CEMS, McKinsey, INSEAD, or Google without that.
3.    How did the CEMS network contribute to your professional achievements?  
First, by giving me exposure to international education, students and companies, it helped me choose & get my first job (consulting), which was a great start of career. And also the CEMS network helps me be in contact with academia, alumni and especially students, many of which became my colleagues.
4.   What advice would you give to current CEMS students?
First, make the best out of CEMS - professionally and personally. Use it to open doors to top academics and companies and to build friendships with fellow students. And then give back - teach, be corporate partner, organize alumni etc. The stronger you make the program, the better for you.