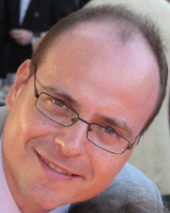 The CEMS Alumni of the Year is a joint campaign by the CAA in close collaboration with the CEMS Student Board, which gives the CEMS community the opportunity to learn about CEMS alumni on a monthly basis and vote for the favorite candidate as the CEMS Alumni of the Year.
Meet David Cabero Jounou, who is the February candidate for the CEMS Alumni of the Year 2016 election. David graduated from CEMS in 1997 from ESADE Business School with his exchange at HEC Paris. He is currently the General Manager Southern Europe, BIC, Barcelona.
1.  How would you describe yourself in a tweet?
Multicultural, experienced, having worked in many countries. Open minded & loving taking risks. Specialized in CRISIS countries.
2.  What are the three most important things that have personally shaped you?
Endurance during Greek crisis: having to put important decisions on my shoulders at a very early stage in my career, when I was 31 years old and became General Manager in Greece at BIC.
3. How did the CEMS network contribute to your professional achievements?
I keep good contacts and friends. They are a good reference for me, and I do not hesitate to ask for advice whenever is required. A great network, very proud to be part of.
4. What advice would you give current CEMS students?
Work abroad, learn to work in different teams, learn from each boss what he can give you. Be yourself, do not leave the others to decide for you. You decide for your teams, if one day you feel you are no longer aligned with your employer then go somewhere else.
The voting for the Alumni of the Year 2016 will take place end of October among the CEMS community and will take place in our social media communication channels, where the winner will be announced in the begin of November.