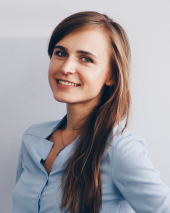 More info
In a global business landscape that's constantly changing, the most valuable skill a person can have is the ability to adapt. CEMS has spent over 30 years refining a unique curriculum with a focus on developing a global mindset that's delivered locally, in collaboration with the top academic institutions all around the world. Coursework is given real-world application through our close alliance with corporate and social partners — creating invaluable connections, collaborations and experiences. Many CEMS students and graduates have chosen to work with CEMS Corporate Partners. In this interview series, we investigate how they have been doing.
Today, we catch up with Elżbieta Hałasa who did her CEMS MIM programme with Warsaw School of Economic, Poland and Rotterdam School of Management, Netherlands. She is currently participating in the Global Trainee Program at ABB as a Project Controller for the Robotics & Motion Division at ABB Head Quarters in Zurich.
1. Why did you choose to work with ABB?
ABB is not only a huge international company giving its employees incredible opportunities in finance and other functions, but also it's well known for its high ethical standards and dedication to health and safety of its employees. These are the primary reasons why I decided to join ABB.
2. Can you tell us a bit more about your role at ABB?
Currently I am participating in a Global Trainee Program in Finance and Business Control which comprises of 3 different rotations. During my first assignment, I worked as a Project Controller in Local Business Unit Robotics in Warsaw, Poland. Currently I am wrapping up my second rotation in Robotics and Motion Division at ABB HQ in Zurich, where I'm supporting Division CFO with financial analyses. In December, I will move onto my third assignment in Houston, U.S, as the Project Controller in Business Unit Oil and Gas in Industrial Automation division. In all of my roles I've been exposed to different levels of the organization and different aspects of working in finance.   
3. What is a typical day like at ABB?
It is hard to describe a typical day at ABB. Working in financial controlling has a specific rhythm which is more intense during the quarterly close. However, in my current position I analyze the financial performance of my division and follow up on relevant KPIs, profitability factors of our businesses, SG&A costs etc, on a daily basis. Working at the HQ enables me to collaborate with colleagues across different departments and also gives me the opportunity to work with senior management.
4. How did you get the job?
I got my job thanks to the CEMS Skill Seminar at Warsaw School of Economics (SGH), my home university. Following the session, I was approached by one of the managers from ABB who invited me to apply for the Graduate Program.
5. Can you tell us something that most people don't know about working at ABB? 
Although ABB has Swedish roots, the entire organization is very international and diverse, and there is no dominant working culture. 
6. What has been the highlight of your job so far?
A few weeks ago, with other Global Trainees, I visited the Center of Competence in Digital Fabrication at the Swiss Federal Institute of Technology in Zurich (ETH). We had a chance to see how PhD students and young professionals create breathtaking constructions and designs with ABB Robots. Never before have I experienced robots being used to build prototypes of such amazing structures and buildings and the enormous potential for automatization in the Construction Industry. 
7. How has your CEMS MIM degree helped in your role?
Thanks to CEMS MIM, I have had opportunity to gain excellent knowledge in finance at both Warsaw School of Economics and Rotterdam School of Management. Moreover, thanks to the international factor of CEMS MIM, I learned how to face cultural challenges and make the most of the potential of diverse groups. During CEMS MIM, I also had to work hard towards meeting very tight deadlines and always give 100% effort to what I have to deliver. These have contributed greatly towards my professional career at ABB. 
8. What advice would you give to anyone considering to work with ABB?
If you are open-minded with an ambition to develop your skills and personality in a truly international environment, ABB is the place for you. 
9. The CEMS program is often considered to be a bridge between the academic and corporate world. Would you agree with this assertion?
I fully agree that the CEMS MIM program is a bridge between the academic and corporate world. Thanks to the close cooperation between Corporate Partners and the CEMS organization, "CEMSies" get many useful insights about potential employers as well as the opportunity to establish relationships with the corporate partners and by that, secure future internships or entry positions while still studying.