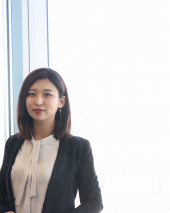 More info
The CEMS Global Alliance is a purpose led organization, powered by our beliefs that great leadership starts with self-leadership and societal progress requires continual exploration. In this series of interviews, we take a look at CEMS students and alumni that are contributing to make this world a more open, sustainable and inclusive world.
Humans of CEMS: 

It all began at the London Career Forum
Today, in our Humans of CEMS series, we are happy to introduce you to Yingqi Liang, Senior Associate at Boston Consulting Group. In this interview, she reflects on intercultural career at BCG and what advice she wants to give current CEMS students.
1. Would you please tell us about yourself? 
My name is Yingqi, but people call me Joy, and I currently work at BCG and previously worked at Deloitte Japan. Completing my undergraduate degree in China, I then moved to Japan to undertake my master degree at Keio University & CEMS.  Through the London Career Forum, I landed my first job offer.  People consider me to be outgoing and a people person who enjoys hanging out with my friends during my leisure time.  My passion is photography and I post my photos on Instagram often.
2. 

What motivated you to be a consultant? 
I was very motivated to be a consultant, but after I came to this industry, I was not confident enough to say that I am capable because I saw so many excellent people around me. I can only say I like to be but not sure whether I am fully there yet.
My motivation comes down to two aspects: Firstly, I truly enjoy my major. Like all CEMS students, our major is international management where we compare different management styles globally and learn about multinational management. We discussed various case studies, such as how management can change a company to be more global.  This is what drives me to do similar actions, such as international talent.  As, I master three languages, I can contribute to my clients' and teams' company culture and perspectives. Secondly, I am a social person and find that I enjoy giving presentations and public speaking.  However, I am not fond of input/ doing research/ analyzing through data, but consulting has forced me to learn the basics of the latter and I have learnt quite a bit so far.
3. 

What challenges did you feel while working with low/high context team members? How did you overcome it?
My first challenge lies within my skills, where I still have a lot to learn, such as structuring my thought process and how to be more logical.

The second would be language barriers. Being a foreigner working in Japan, especially as a consultant, requires very high language skills.  It is suggested that one use very accurate words when expressing your strategy or goal.  One word can change the entire context/ meaning, which weakens one's logic.  As my Japanese is not quite native, I suffer from time to time within discussions/ negotiations when it comes to directness.  The Japanese tend to have a very straightforward business style, which I have not mastered as of yet, therefore I sound a bit impatient. In turn, the language barrier & tone has created a psychological barrier when switching from English to Japanese, however I am slowly overcoming it bit by bit.
4. 

What advantages do you think CEMS experience brings to your job hunting?
Firstly, the CEMS experience along with the top business schools globally truly enhance your CV, which is a great way to make you stand out from other candidates and highlight your CV.
 
Secondly, it is an excellent opportunity to enhance your English skills.

Thirdly, the CEMS experience broadened my horizons. Collaborating, socializing and debating with fellow students from different backgrounds, changed my way of thinking.  Before experiencing CEMS, I thought my way of thinking was the only correct way in doing so.  But after going abroad, I realized that there are lots of new and different angles.  I was shocked at first, but also gained global experience that allowed me to grow.  Now, I am much more accepting and willing to understand multicultural content and perspectives.
5. 

What would you advise current CEMS students?
Enjoy your CEMS experience as much as you can! You never know which experience will shape your future.  Be confident and remember to cherish this opportunity to study abroad and engage with different cultures/ perspectives.  Although you may face some difficulties along the way, stay focused and strong.