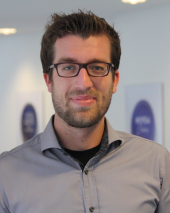 More info
Many CEMS students are participating in internships with CEMS Corporate Partners. In this mini interview series we investigate how they've been doing!. Ninth in this series is Tim Rossié from the University of Cologne!
I did my CEMS Studies at the University of Cologne with a major in Supply Chain Management. I completed my semester abroad at the National University of Singapore
1. Where do you work? 
I am currently doing the Beyond Borders Graduate Trainee Program at Beiersdorf in Supply Chain Management. Beiersdorf is the company behind renowned skin care brands like NIVEA, Eucerin, Labello, La Prairie, and Hansaplast. Its headquarter is located in Hamburg, Germany.
2.  What do you do at Beiersdorf? 
The Trainee Program takes 18 months and it can be done in Marketing & Sales, Supply Chain Management, Finance & Controlling, and Human Resources. I am doing the Supply Chain track and spent my time in 5 different departments. First, I worked in the Labello production and implemented Lean principles like 5S. My second station I spend in the Demand Planning for Europe before I spent 5 months in Dubai in the Footprint department. I was mainly working on improving existing production facilities and building new ones.
After my return to Hamburg, I spend 3 months in the Innovation Management department, where I had the exciting task to plan the launch of new, innovative products to the market. Within an FMCG company, this is a very challenging task for members of the Supply Chain team, since the product-life-cycle is short, and the assortment is huge.
Currently I am doing my final cross-functional step in Sales Germany to learn about the challenging tasks at the "end of the supply chain" in selling the products.
3. How long have you been with Beiersdorf?
17 months. I'll finish the program next month and will become a Team Leader in the production center in Hamburg.
-How did you get the job?
I learned about the program when I attended a skill seminar, got to know the company better through the business project and stayed in contact with the HR people. The experience and skills of CEMS graduates are very similar to the requirements of the Graduate Trainee Program, so that I applied. After an online test, telephone interview and a full day Assessment Center, I gladly received my offer.
4. What is the best part about your job?
The best part about the Beyond Borders Trainee Program is, that I am able to choose the departments and tasks during my Trainee program and get a good overview of the function. That enabled me to make a sound decision for my final position now. Additionally the program helped me to build a wide network of people, ranging across countries and even functions. Beiersdorf is a very people driven company and getting in touch with so many people through the program definitely helps.