The Forum was the occasion for students to learn more about sustainability and South America's social issues, to hear about corporate partners' initiatives, to learn about local initiative and give back to the community. And of course it included a lot of networking and bonding.
Students from the CEMS schools of FGV EAESP in Brazil and Universidad Adolfo Ibáñez in Chile had the opportunity to learn more about sustainability, from social issue with Prof. Julia Pacheco's lecture on the Venezuelan migration crisis and the possible responses to it in collaboration with Casa Venezuela, an NGO, to systemic issues with FGVces's (FGV's sustainability research center) lecture on alternative approaches to capitalism, to environmental with Integration's case study.
Great opportunity to meet new people and to go further in some topics that are outside class. We could expand our knowledge and create a good network with worldwide companies." - Ana Carolina, FGV-EAESP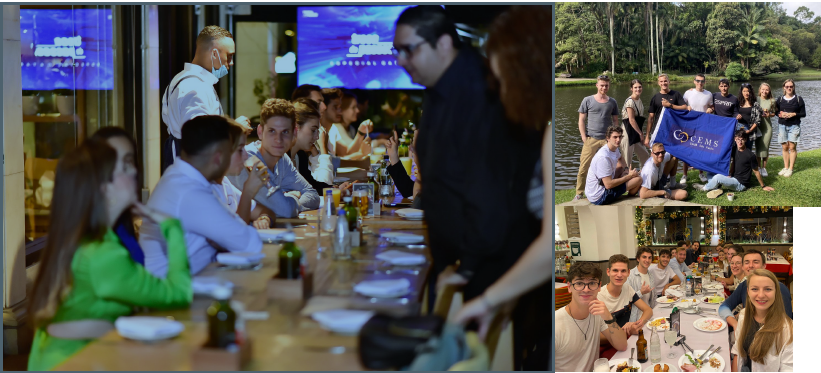 Integration was one of the many CEMS Corporate Partners that took the time to tell the students about their initiatives, while watchmaking for Cartier or over dinner for H&M. Dinners and networking have once again been at the heart of the CEMS experience during the LATAM Forum. But CEMSies also had the opportunity to bond during more unusual events, like visiting the botanical garden or cooking for the most in need.
"Without a doubt, the LATAM Forum will be one of the highlights of my CEMS studies. It was not only a great chance to Team did an outstanding job to ensure that everyone has a great experience during the event. The activities during the Forum were aligned with the CEMS Global Values Statement, as we had a good balance between academic, practical and socially responsible programs." - Nikoletta Pataki, UAI`
Preparing and distributing food packages was with the visit of a favela and the recycling cooperative that provides employment and social support to its residents, the occasion for participants to gain first hand knowledge on grassroots initiatives and direct action.

Participants' reaction seems to show that the event was a success, and it brought a lots of learnings for the upcoming editions. The CEMS Global Alliance is indeed looking forward to the next LATAM Forum.