Hosted by the exclusive Swiss CEMS member school the University of St Gallen, the Annual Events featured the induction of two major players in management education from Asia (Hong Kong University of Science and Technology and the Indian Institute of Management Calcutta) as well as two more Corporate Partners (Fung Management Ltd and Kerry Group).
CEMS, St Gallen and ABB join forces to explore Responsible Leadership
The events were also marked by a high-level panel exploring the theme of Responsible Leadership, featuring representatives from the worlds of media, academia, non-for-profit, politics and banking. One of the participants, Gary Steel (Executive Committee member responsible for Human Resources, ABB Group) underlined the legitimacy of CEMS holding such a debate and of ABB being so actively involved as premium sponsor of the events:
"We take a broad view of corporate responsibility at ABB. For us, it includes a commitment to maintaining high social, environmental, human rights, ethical and governance standards for the benefit of all stakeholders. CEMS is doing tremendous work to help future managers see the big picture of a company's role in society and reflect on the meaning of ethical conduct, respect and accountability. This work is of huge importance in our world of rapid change and pressure for high performance, and for this reason we are proud to sponsor the CEMS Annual Event 2012."
Record number of graduates and the first non-European "School of the Year"
Other highlights of the events included the graduation of a record 787 CEMS MIM students, who also had the opportunity to sign on stage the Global Values Statement, a CEMS initiative offering new graduates the chance to commit to and uphold certain values in working life. In addition, the traditional CEMS academic awards of the year saw Ivey Business School (Canada) become the first non-European member to come away with the prestigious School of the Year title, barely three years after they began delivering the top-ranked CEMS MIM. Other schools recognised were HEC Paris, the University of St Gallen, University of Economics Prague and Nova School of Business and Economics.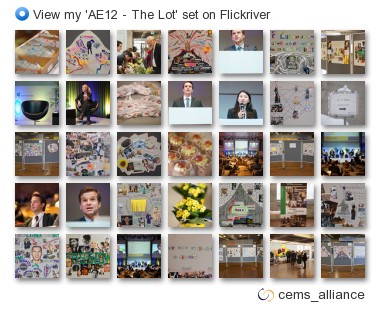 ---