No matter where you are in the world, you can always connect back to CEMS. We are constantly looking for new ways to bring this Global Alliance to your doorstep. Below you will find a number of new initiatives that will inform and inspire.
CEMS Leadership in a Post Covid-World Series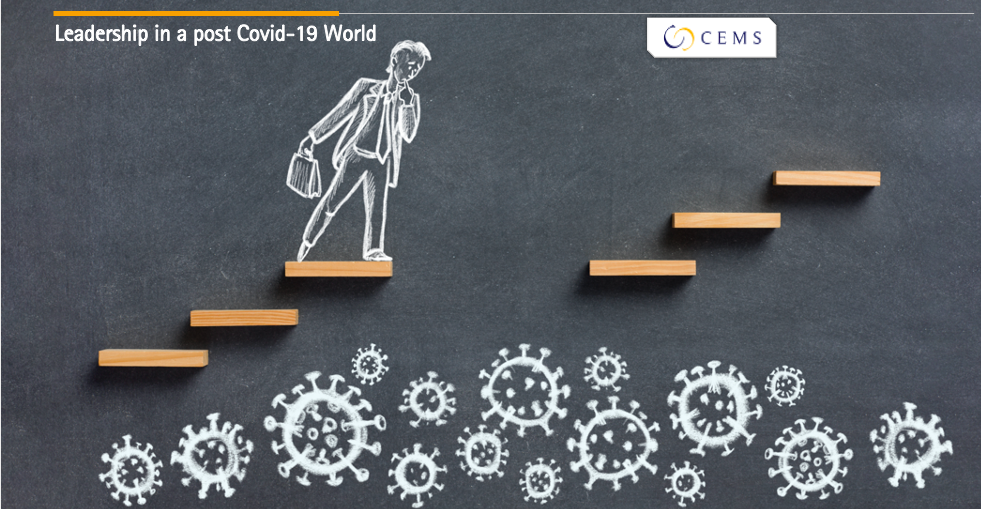 The vast majority of CEMS Alumni and Corporate Partners believe the way their companies operate globally will change as a result of COVID-19. How is this pandemic altering the DNA of global organizations? Join us for this series discussing how to cultivate successful global leadership in the wake of this unprecedented crisis with CEMS Corporate Partners, alumni and academics.
Learn more on the CEMS YouTube Channel!
The CEMS Podcast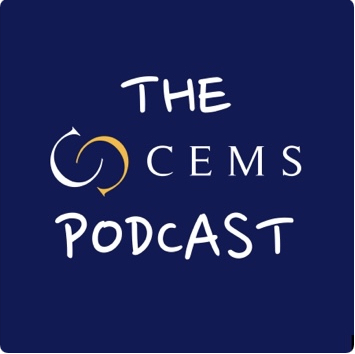 The CEMS Student Board has also launched The CEMS Podcast, with regular interviews sharing insights and discussions about topics relevant and interesting for all CEMSies, and especially current CEMS Students.
Season 1 - Gregor Schafroth explores topics relevant and interesting for all CEMSies, and especially current CEMS Students.
Season 2 - Every two weeks, Leon Nicklas Becker and Lilla Toth provide listeners with the amazing stories and insights our global community has to offer. 
CEMS Webinar Series
The CEMS Alumni Association, Student Board and Global Office, have teamed up to provide the CEMS community engaging learning opportunities on key business topics and trends through a series of monthy webinars. The live CEMS Webinar Series take place on a monthly basis and are open to students, alumni and the larger CEMS community. It's a thought-provoking program lined up with interesting content and speakers for you. If you missed the live recording, here below, you can catch up on these deeply insighful discussions. You can also find more on the CEMS YouTube channel.
Ideas, suggestions for a future webinar, or would like to propose or be a speaker? Reach out to the CEMS Alumni Relations Team at alumni@cems.org!
Corporate Venture Capital: opportunities and challenges
This webinar will discuss some of the opportunities, challenges and questions companies face with corporate venture capital initiatives. Axel Tismer, CEMS Alumnus 99', will guide us and highlight strategies to incorporate into CVC.
Category Design in Real Estate: Building Leading Instant Buyer in Southern Europe
Giorgio Tinacci, CEMS Alumnus 2015, will cover the following: his entrepreneurial journey from CEMS student to tech entrepreneur in real estate, pitfalls, instant buyer platform solutions, disruptive innovation through category design and its challenges and much more.
CEMS Global Meetups (America & APAC Editions)
The CEMS Global Meetups 2020 Event is a series of two events where speakers from all around the world talk about their experiences working in the Americas and/or the APAC region. The speakers speak about their experiences working abroad, how they got to where they are, tips and tricks for working internationally etc. The candid conversations about first-hand experiences give students the chance to learn about possibilities, challenges, etc. of working in the Americas and/or the APAC region.
CEMS APAC Virtual Panel Discussion: Career Opportunities & Development
The APAC CEMS Local Committee (LC) was back on the 24 November 2020 and we've organised a virtual panel discussion with a focus on the topic of Career Development and Opportunities.
The session was hosted by Prof Jumana Zahalka, Academic Director for MSc (Mgt) and CEMS MIM, National University of Singapore (NUS) and featured CEMS alumni / alumna Doris Shuo Li, Michele Mattotti and Rimli Das Gupta as key speakers.
Together, they have had a fruitful discussion addressing the following questions:
A) How the pandemic has affected the way companies or hiring managers are seeking out for talents?
B) How should CEMSies leverage on the available platforms / opportunities available?
C) What are the necessary skill sets needed to stand out from the crowd?
D) What are the essential tips and tricks for successfully landing an ideal role?
E) How CEMSies can stay relevant for the current employment landscape?
Here is a recording of the session for your kind viewing! Stay tuned and subscribe for we will be having more discussions to come for the year 2021!
Consulting: Master Your Case Interview
Learn a pragmatic methodology to solve cases in this 90-minute webinar. Understand exactly what you need to do to prove that you have the 7 skills your interviewers in top consultancies are looking for.
Family Business in the Middle East
The region remains one of the largest growing markets in the world Egypt alone is forecast to reach a 5.6% growth in FY 2019. Dr. Hakim Meshreki, Academic Director of CEMS at AUC will guide you through the perspective of African businesses in a globalized world in which localization and the ability to understand the culture, the customs and the traditions of a country are fundamental assets for thriving in this fast-changing era.
Let's talk about leading responsibly
We will initiate a dialogue on what it means to be a responsible leader. Professor Kanina Blanchard, from Ivey Business School, will introduce three different topics regarding Conflict Management, Women Leadership, and Ethical Dilemmas, and moderate an interactive and stimulating discussion among the participants. Don't miss out on this incredible opportunity to meet fellow CEMSies from all over the world and to broaden your knowledge on leading responsibly.
Voice tech: new paradigm for new opportunities for customer interaction
The adoption of voice assistants is accelerating, introducing unprecedented ways for brands to interact with their customers. To understand the new paradigm voice is introducing, Blandine Avot, CEMS Alumna 2007, will cover the main technical and design concepts that differ from web interfaces and explain how they reshape interaction and create opportunities for a new style of customer relationship. We will then illustrate with examples of businesses that have already embraced voice and map the different strategies for a company to get started with voice. Finally, she will share some tips and resources that can help if you want to join the voice industry.
Alumni of the Year Panel Discussion: Geographic Differences in Gender Equality.
We proudly present Geographic Differences in Gender Equality with Alumni of the Year Awardees 2019: Rebekka Grun von Jolk (CEMS 1999) and Nina Mohanty (CEMS 2017), which will occur during CEMS Global Alumni Week 2020. Nina and Rebekka will kindly provide their thoughts and insights on this heated disucssion followed by a Q&A session.
Homo oeconomicus vs Homo sapiens
We are happy to announce our next webinar with Ewa Miendlarzewska, CEMS Alumna (Class of 2007), Associate Professor of Neuroscience & Management at the International Management School Geneva. Ewa will be covering the following topic: Homo oeconomicus vs. Homo sapiens, which will address rationality, value (moral) & emotions.
2020 CEMS APAC Virtual Alumni Panel Discussion.
This webinar will be hosted by 3 CEMS Alumni as our guest speakers, who will share their views and insights on business confidence, sustainability and challenges in Asia-Pacific. For this special panel, we are happy to welcome Anna Tantushyan (NUS 2016), Shreya Sethi (HKUST 2017) and Julian Grimm (ESADE 2013).
Sustainability and Business
We are happy to announce our webinar with Pierandrea Quarta, CEMS Alumnus (Class of 2010). Pierandrea will dive into the hot topic of sustainability and business. Furthermore, he will address how COVID-19 is affecting sustainability and how business is changing in that retrospect.
Why do we focus on values not ethics: Implications from China?
In today's evolving world, doing business goes hand in hand with management ethics. Dr. Hao Chen, Assistant Professor at Tsinghua University, will discuss with us why it is important to focus on values, bringing examples from China. The webinar will cover an overview of Chinese culture and contemporary management philosophy, linking implications to businesses and concrete examples on how companies manage values in China.
Remote Work at a Glance: CEMS chat with Aneta Kosinska
Enjoy this session with CEMS Alumna, Aneta Kosinska, where she provides you tips & insights about the art of remote working all while having a relaxing chat. You'll leave with your virtual toolkit replenished.
Effective Altruism (GRW Episode)
Enjoy this special instalment of the CEMS Webinar Series: Global Responsibility Week edition with Jan-Willem from Effective Altruism. Jan-Willem elaborates on what to consider when choosing an impactful career as well what to consider when trying to make a donation with the largest impact.
The Serendipity Mindset: the art and science of creating good luck
Ever wonder about luck and how it plays into daily life? work? in general? Dr. Christian Busch, Prof. at NYU & visiting professor at The London School of Economics and Political Science (LSE) explains that serendipity isn't about luck in the sense of simple randomness. It's about seeing links that others don't, combining these observations in unexpected and strategic ways, and learning how to detect the moments when apparently random or unconnected ideas merge to form new opportunities. Busch explores serendipity from a rational and scientific perspective and argues that there are identifiable approaches we can use to foster the conditions to let serendipity grow.
Human Resources of Tomorrow
In this episode, Rimli Das Gupta, CEMS alumna and a Recruiting Expert at Beiersdorf, will dive in and provide us input on how HR has changed over the years and how relationship management will be shaped in the future from trends in AI to global talent acquisition.
From CEMS to Consulting to Scaling a Tech Business
Max Friberg, CEMS Alumnus 2014 (SSE & IIMC) will share his personal entrepreneurship journey, going from CEMS to strategy consulting, to starting and scaling a tech business.